The Young Women Leadership School Celebrates Honorees and Students at Empower Breakfast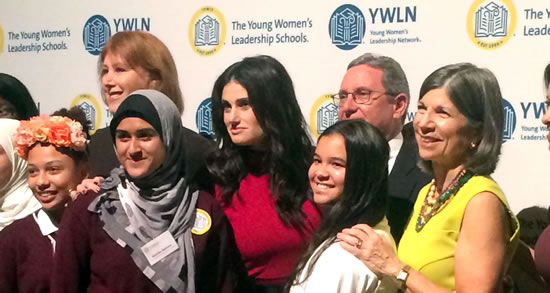 When Dina Habib Powell, President of the Goldman Sachs Foundation and Head of Goldman Sachs Bank USA's Urban Investment Group said, "When you educate a woman, you create a nation," those words rang as the theme of the Empower Breakfast sponsored by The Young Women's Leadership School (YWLN) held at Cipriani on Wednesday, October 15.
Tony Award-winning actress Idina Menzel, Pultizer Prize-winning author Anna Quindlen and Andrew Farkas, CEO and Chairman of Island Capital Group, were honored along with Habib Powell for their outstanding service to their communities and for the cause of educating young women.
New York dignitaries had praises to sing about the Empower Breakfast and YWLN's president, founder, and board member, Ann Rubenstein Tisch.
"This is one of the most extraordinary events," said fashion designer Tory Burch, "Ann is a true leader and everyone on that stage was so inspiring."
Tisch also commented on how joyous the event when she said, "I am so profoundly proud of our students and our alumni. You can see how much each group has accomplished both inside our schools and outside. These schools wouldn't survive and certainly wouldn't replicate if the students hadn't done the work to make them excellent schools. I'm blown away and so proud," said Tisch.
Sy Fliegel, President of the Center for Educational Innovation- Public Educational Association praised the event, "I'm exceptionally impressed. I love when they present where the graduates are today because in the final analysis that's what it's all about. Honestly it brings me to tears." President Ellen Futter, former president of Barnard College, current president of the American Museum of Natural History, shared Fliegel's sentiments. "I think this is a great event. I'm a long-term supporter of girls and women and especially their education. This is a great example of how transformative educational opportunity can be for young girls," said Futter, "The single best predictor of the health of a family is the level of the mother's education. This really matters."
The success of YWLN can be easily measured by its impressive statistics: more than 95% of students graduate, nearly 100 percent are accepted to college and $21 million in financial aid awards are distributed. "Our school offers a lot of opportunities and it opens up our minds to different things," says YWLN of Brooklyn student Evelies DeFrietas, 14, who have a penchant for science.
The students at the Empower Breakfast were chosen to attend based on teacher recommendations. In the case of DeFrietas, she was chosen out of over 400 applicants. Other students including Esrat Erina, 14, also shared inspiring words about the school. "This school gives you great opportunities to go to a good college and get a good job," she says, "there's a lot of love and sisterhood at this school."
Janelle Jones, 14, is a student at YWLS in Brooklyn and has already decided that Howard University will be her alma mater. "My school gives a very high level of work but they help you take the steps to do it and understand it. I feel like a lot of people are supporting us and it's an encouragement to go to college," said Jones. Based on the words of Hunter College President, Jennifer Raab, it seems that these girls have a great chance of being admitted to the college of their choice. "We have number of phenomenal girls [from YWLN] in our freshman class. We want to have as many of these girls as we can recruit," said Raab.
Each honoree had something profound to say as the accepted their award. Idina Menzel, perhaps best known for playing Elsa in the animated feature "Frozen", is the founder of A Broader Way Foundation, a performing arts program dedicated to offering girls from urban communities an outlet for self-expression and creativity. She held tightly to Jada McBeth, a 7th grade student at YWLN of East Harlem, as she described with happiness the dedication the girls show particularly to writing music at Camp Broader Way. "They're committed to taking risks," said Menzel, "and they help me to find my voice."
Andrew Farkas, Anna Quindlen, and Dina Habib Powell addressed the importance of education in their speeches. "Education is the foundation of self sufficiency. Self sufficiency is the cornerstone of self esteem and self esteem is the cornerstone of happiness," said Farkas. Quindlen said, "When you educate one girl, you improve the world by leaps and bounds. To have this many girls in the room educated so well you really think the world can get better."
YWLN began in East Harlem in 1996 as the first single-sex public school the United States had seen in over 30 years. Under Tisch's extraordinary leadership, YWLN has grown to five high-performing schools serving more than 2,200 girls in New York City.
YWLN currently operates in East Harlem, Queens, Astoria, the Bronx and Brooklyn. National affiliates include schools in Chicago, Baltimore, St. Louis, Rochester and various locations across Texas including Austin, Dallas, Lubbock, San Antonio, Fort Worth, Grand Prairie and Houston. #