Tondra Lynford Changes Lives for Children with Special Needs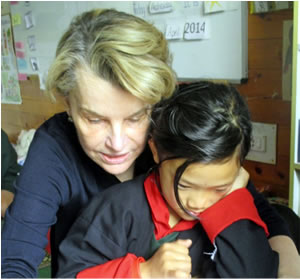 Tondra Lynford and two other mothers of autistic children founded Resources for Children with Special Needs (RCSN) in 1983. According to Lynford, the need for an advocacy organization was incredibly apparent in the early 80's- a time when learning and behavioral disabilities were widely dismissed as a result of bad parenting and highly stigmatized. "There were so many parents who were struggling just to find a program that would accept their child," said Lynford, "having a child with special needs was a very painful experience in those days. When you're the mother of a handicapped child, it is all consuming and when you can't do anything about it, it just eats you up."
The idea of forming a central information center came together in Lynford's kitchen and had a beginning that could only be described as grass roots. The three women started by sifting through the phone book and sent mailers. They wrote to organizations and agencies. They formed a board, harnessed an impressive number of volunteers and made went to every place they could to spread the word. Soon enough, they were flooded with responses. To paraphrase Lynford, the organization took off overnight.
RCSN provides a variety of services to those with special needs and their families. As of this year, the organization has helped over 300,000 families. With a regular staff of about 25 people, RCSN provides workshops all across the city and through the boroughs for parents ranging in topics from how to potty train a child with cerebral palsy to how to handle bullying. The organization also holds an annual camp fair that connects parents to over 100 programs. "Our goal is to connect families to the resources that are out there," said Lynford, "we want to develop their knowledge, skills and confidence." Lynford explained that the particularly grueling process of applying to appropriate schools is one that RCSN spends a lot of time and resources on. This program, aptly titled the Match Program, has in practice for two years and served over 2000 children.
The landscape of autism awareness has changed since the inception of RCSN, much to the delight of Lynford. She credits organizations like hers for bringing awareness to autism and speaks particularly highly of the advocacy organization Autism Speaks for bringing the disorder to the public sphere. "I really believe that in New York City we began to create that sense of awareness for families that they weren't alone and that they could do things for their children," said Lynford. She highlighted an experience she had when her daughter was a teenager as evidence of the change that was emerging. "I remember we were sitting in a restaurant and she had said something inappropriate," described Lynford, "and our waiter came over and said 'oh, she has autism! I know what to do' and the rest of the meal was perfect because he knew how to deal with her. When she was younger that never would have happened. People would look at her as if she was weird or something was wrong with her. They didn't understand."
Lynford's daughter, now in her 30's, lives in an adult program supervised by the Anderson Center of Autism in New Paltz, NY. She describes the lifelong learning component of the program as being very helpful in carving out a rich life for her daughter full of volunteer opportunities and community activities. Lynford has seen what the right environment can do for an autistic child. "One of our founders has a son named Andrew who is now in his 40's and practicing law in Nevada," said Lynford; "those of prior generations never had the lifestyle that my daughter and Andrew have now with community involvement and a sense of responsibility and accomplishment. They would have been institutionalized."
Lynford applauds the public school programs of today due to the excellent programs for special needs kids they provide, adding that the secret is just finding the right one that fits the specific child. She also speaks highly of The Churchill School and Winston Prep. She encourages parents to enroll their children in school, if they are able, as opposed to keeping them at home.
After over 30 years, Lynford is immensely proud of what RCSN has, and continues to accomplish. "Young women come up to me at conferences that I've never met before and they thank me for starting this organization," Lynford said proudly. "It makes me very happy to see these women have such a better life." #