Celebrate Dyslexia: Eileen Marzola Ed.D. Is Honored At Joyous Celebration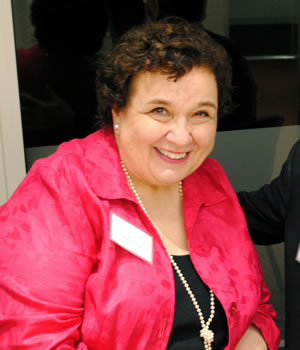 Recently, Eileen Marzola, Ed.D., was honored for her outstanding work in dyslexia education at the New York University Kimmel Center. Celebrate Dyslexia, as the event was aptly called, featured a variety of presentations and a silent auction that included photographs from Elena Gibbs, a 17 year old senior at Winston Prep School and complimentary registration to the International Dyslexia Association (IDA) Annual Reading, Literacy, and Learning Conference, among others.
Eileen Marzola, Ed.D., is considered a pioneer in field of education for those with learning disabilities and attention deficit disorders. She has written for various professional publications including Reading, Writing and Learning Disabilities International and Reading Instructional Journal, among others, presented papers at many national and international conferences and conducted countless workshops for parents and teachers regarding the instruction of those with dyslexia and other learning disorders. She is an adjunct assistant professor at Hunter College and Teachers College, Columbia University, which is also her alma mater and serves on the Board of Directors of the International Dyslexia Association all while maintaining a private practice.
Event co-chairs Judith R. Birsch and Sharon Thomas showered accolades on the esteemed Marzola during their introduction. "I can think of only one person in this city who has the breadth and depth of knowledge and teaching experience to affect how we treat learning disabilities, in particular dyslexia, and that is Eileen Marzola," said Birsch; "at multiple levels of concern she has made enormous contributions."
Eileen credits "the look of hunger to learn" on the faces of children with dyslexia as the spark that started her career. "I felt an intense responsibility to help these children," said Eileen about her work, " and there's nothing better than to see kids become more confident and more independent. It's thrilling to me and it's something that still gives me chills."
The event was buzzing with an impressive mix of attendees including parents of Eileen's students, health professionals and neuropsychologists, teachers, and volunteers. Many were eager to shed light on different aspects of dyslexia.
"When I entered the field dyslexia wasn't discussed as much but over time perception has shifted and it is much more out in the open," says Susan Blumenthal, Ed.D., a neuropsychologist who works primarily with college aged adults and trains teachers at Hunter College, Manhattanville College, Teachers College and Columbia University while maintaining a private practice. Another attendee, psychologist Sasha C. Blackwell, Ph.D., NCSP, agreed and happily acknowledged that the perception of dyslexia is positively changing. "It's nice to be at an event that embraces dyslexia rather than stigmatizes it. It shouldn't be looked at as a deficit but rather as a different learning profile that we can, in turn, learn from," said Blackwell.
The proper education of parents and teachers was a heavily discussed topic at the event. Due to the complex nature of dyslexia, the disorder can sometimes be difficult to properly diagnose. According to Sejal K. Vyas Ph.D., a pediatric and adult neuropsychologist based in Connecticut, dyslexia is often misidentified as ADHD. Marzola stressed that learning how to look and properly identify where the breakdown occurs is an essential part of working with dyslexic children. "Correctly trained teachers can make a great difference. Teachers can't accept the status quo. People in this field need to ask what are we not doing, rather than what are the kids not doing," said educator Kitty Prager. According to those at the event, it's teachers like Eileen that make overcoming dyslexia possible.
"It is extraordinarily rare to find someone as knowledgeable, caring, and able to help every child as Eileen," says Sally E. Shaywitz, MD, Co-Director of the Yale Center for Dyslexia and Creativity. "We are very lucky to have her and need more people like her in this field." #