Folk Art Museum Rises from the Ashes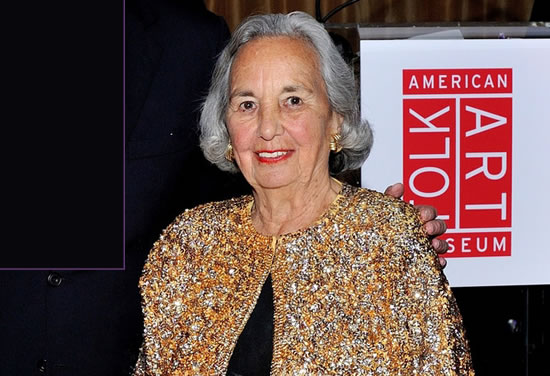 Joyce Cowin, Trustee & Honoree
The American Folk Art Museum's Benefit Gala: "In Celebration of Our Treasures" raised $1 million for the Museum's exhibitions and educational programs, with 513 guests in attendance.
The evening honored Joyce Berger Cowin for her leadership over the past four decades, and a Museum Trustee for over twenty years. Mrs. Cowin's vision for the Museum at 2 Lincoln Square has ensured that folk art is accessible to New Yorkers and visitors of every age and background.
The event also heralded Richard Walker, general counsel of Deutsche Bank, for his passion for folk art, and the company's support of innovative educational programs; and The Henry Luce Foundation, accepted by Board Chair Margaret Boles Fitzgerald. As part of their 75th anniversary initiative, the Henry Luce Foundation funded the New York City presentation and six-city national tour of Self-Taught Genius: Treasures from the American Folk Art Museum with a grant of $1.6 million, making the museum's extraordinary and unique collection accessible to hundreds of thousands of people in cities across the country. Peyton Cochran, Lucy and Mike Danziger, and Nancy and Michael Druckman chaired the gala.
Ms. Cochran presented the first award to Richard Walker, who spoke about his long history with the Museum. Dr. Anne-Imelda Radice, Executive Director, spoke about the Museum's recent successes "by the numbers", including attendance of over 100,000 (up 30 percent over last year), 19 events a month, and a 73 percent increase in K-12 students – all at an admission charge of $0. Dr. Radice spoke about the Museum's innovative education program, including its Teen Docent Program. This program began in 2002 and has graduated more than 350 students who ALL have gone on to college. Walid Ghazal, a current Teen Docent from the Washington Heights Expeditionary Learning School, spoke about his experience. Richard Parsons, former CEO of CitiBank and husband of Museum Chairman Laura Parsons, volunteered his services to lead a live auction to underwrite education programs. Mr. Parsons challenged the audience to raise $100,000, which successfully brought the evening's total to $1 million.
Museum Trustees Lucy Danziger and Liz Warren presented the award to Margaret Boles Fitzgerald. The evening ended with a heartfelt speech presentation from Laura Parsons to Joyce Cowin followed by music and dancing from Element Music.
Honorees were Joyce B. Cowin; Richard Walker, and The Henry Luce Foundation. #
The American Folk Art Museum is the premier institution devoted to the aesthetic appreciation of traditional folk art and creative expressions of contemporary self-taught artists from the United States and abroad. The museum preserves, conserves, and interprets a comprehensive collection of the highest quality, with objects dating from the eighteenth century to the present.