American Museum of Natural History: Graduation Under the Blue Whale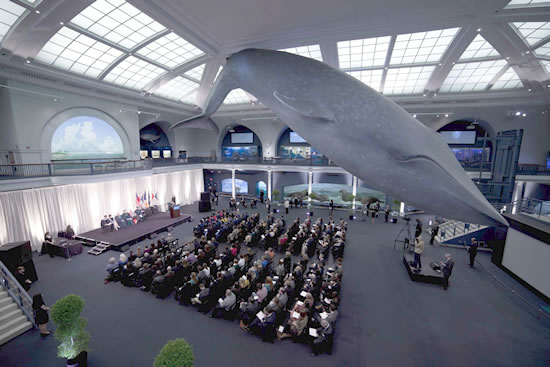 Blue Whale watches as degrees are conferred
"I am very pleased to welcome you to the only commencement ceremony in the whole wide world that takes place underneath a giant blue whale" says Ellen V. Futter, President of the Museum and a former president of Barnard College. Surrounded by models of sharks suspended on strings and walruses behind glass, graduates of a variety of ages and ethnic backgrounds anxiously walked to the front of the aisle to await the receipt of their degrees. Monday, October 27, 2014, marked the second Commencement for the Richard Gilder Graduate School at the world-famous American Museum of Natural History. Richard Gilder, for whom the school is named after, was also present in the audience. As the harmonic violinists finished performing Pomp and Circumstance for the academic processional, the Senior Vice President and the Provost of Science at the graduate school, Michael J. Novak, opened the ceremony by stating that "it is once again a special moment to celebrate an enterprise in one of the world's great science museums."
With a faculty of fifty-two professors, whom John J. Flynn, Dean of the graduate program considers "leaders in their fields," this six-year old program offers unique research opportunities and access to the museum's extensive collections. The program is in itself historic, by marking itself as the "first and only museum in the United States authorized to grant the Ph.D degree, as well as the first and only American museum to offer a free standing - that is non-university affiliated - Masters program in teaching science," says Futter. Classes are held in the stunning Central Park West location of the museum, on the fifth floor where access to visitors is prohibited. According to Novak, also a professor of ecology, the Richard Gilder Graduate School "bolsters [the museum's] convention in the idea of bringing vast academic training and education to an institute that not only fosters cutting-edge research in the natural sciences and anthropology, but also serves to inspire and education an enormous broad spectrum of students and visitors."
The highly competitive Comparative Biology Ph.D. Program is accelerated, enabling students to complete their degrees in four years, rather than the standard six to eight. Since its inception, the Richard Gilder Graduate School has awarded twelve Ph.Ds. The school demonstrates its willingness to assist its students in their success, by offering not only full financial support, but also a small stipend for those enrolled in the Comparative Biology Ph.D program. To gain admittance to the program, students require either a Bachelor's degree or the equivalent, and must have taken both the general GRE, as well as the GRE Subject Test in Biology. Students are further evaluated based on their letters of recommendation, their interests and academic preparation and their final interviews. On average, the school seeks to admit around four new students per year.
Flynn presented the four graduating Ph.D students, who enrolled at the school in 2009 and 2010, with their degrees. First was Alejandro Grajales of Colombia whose dissertation dealt with the "morphological and molecular evolution of sea anemones as revealed by an emerging model organism: aiptasia," which he defended on November 22, 2013.
Second to receive her degree was Ansel Payne, whose dissertation focused on "phylogenetic studies of apoid wasps with insights into the evolution of complex behaviors," which she defended on August 21, 2014. Pedro Luiz Viera Del Peloso defended his thesis on August 22, 2014, and earned his degree for the study of "phylogeny, systematic review, and evolution of narrow-mouthed frogs."
Finally, Dawn M. Roje who defended her thesis as recently as September 30, 2014, earned a Ph.D for "molecules, morphology and monophyly: resolving flatfish phylogeny and investigating why it has been so difficult to do." Unfortunately, Roje had to be in California for a family emergency, and was unable to be present to accept her degree. Her advisor, John S. Sparks, and co-adviser, Melanie L. J. Stiassny, accepted it on her behalf.
The Master of Arts in Teaching degree, with a faculty of eighteen, serves as a fifteen-month long program that includes a full-time, paid teaching fellowship. Awarded by the New York State Board of Regents, the mission of the Master of Arts in Teaching program is to prepare students to teach earth and space sciences for grades 7 through 12.
"[The Regents] understood that the museum is uniquely positioned to create a teaching program that will prepare teachers to not only know their content, but to make that content accessible to other students" claimed John B. King, Jr., a graduate of Yale and Teachers College of Columbia University, and the current New York State Education Commissioner and President of the University of the State of New York, when discussing the birth of the program.
He further elaborated that the Regents "understood that the museum had a particular commitment to the relationship between education and social justice." Any student, regardless of life and career experiences, is welcome to apply with a minimum of 24 Earth science credits, as well as 6 credits in chemistry, environmental science, biology or physics. Futter reiterated this belief by stating that "every person, regardless of background or resources, should have the opportunity to learn and grow and fully realize his or her potential."
The program is supported by the New York Department of Education in an attempt to fill a gap of qualified and prepared teachers in the STEM fields. "There are students in New York City who cannot take chemistry, physics, earth science and algebra II [...] and high schools that don't offer the breadth of courses that we know are essential to long-term success in the STEM fields," stated King. The notion of this need for increased STEM education was elaborated by Futter, who boldly stated to the graduating class: "we live in times that desperately need scientists and boy, do we need you."
The Masters program graduated sixteen students on this Commencement event. King presented the degrees along with Merryl H. Tisch, the Chancellor of the New York State Board of Regents. The students earning their Masters at the second Commencement included: Erin Harper Brown, Laura Renee Carver Dionne, Jaime Michelle DiPuppo, Kenneth Egri, Ariel Marie Goerl, Noah S. Kaminsky, Tamara Machac, Sarah Rebecca Marks, Robert McKinley, Cynthia S. Montalvo, Allison Lee-Ann Platsky, Steven Riccio, Leah M. Roberts, Zachary Joseph Trunkely, Wanda Vargas, who whimsically took a selfie while accepting her degree and Edward Yany.
In addition to these students, two honorary Doctor of Science degrees were granted at this commencement, presented by Futter. The first was awarded to Louis V. Gerstner, JR., who currently serves as the Vice Chairman at the American Museum of Natural History and is a retired Chairman and Chief Executive Officer at IBM. The second was presented to Edward O. Wilson, an Honorary Trustee of the museum, and a former university research professor at Harvard University. Both men have extensive backgrounds in engineering and the natural sciences, respectively, contributing to their fields in novel ways and advocating for the continued improvement of education. Moreover, both recipients of the Doctor of Science Honoris Causa have a passion for the museum and everything it represents. "Growing up on Long Island, the most special thing my parents organized for my brothers and me was a trip to the Museum of Natural History. It was a place of incredible intellectual inspiration," says Gerstner, Jr.
It was evident that the museum took great pride in this new institution, with Novak calling this enterprise a "school for scholars with a home for aspiration and great collections." Everyone present at the Commencement Ceremony had full confidence in both the program and the graduating class, with Futter asserting that the students "will leave this ceremony as newly minted PhDs and teachers and set out on a course that will change [their] world and quite possibly, the world". King noted that "the leadership at the museum understood what was possible, how much could be accomplished - that's why we are here today."#