VP of Transformation at YAI Gives Keynote at Conference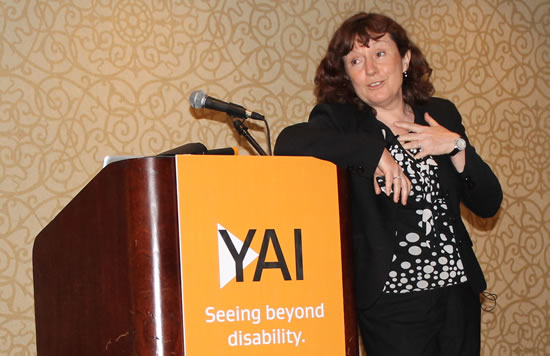 Dr. Francoise Legoues delivers Keynote
Dr. Francoise Legoues, vice president of transformation at the YAI National Institute for People with Disabilities and former Vice President of Innovation, office of the CIO, IBM, recently delivered a keynote speech, as part of the three-day YAI Conference, now in its 35th year.
"I am an optimistic engineer who thinks that the glass is not half full or half empty. When it is filled half way, it can hold twice as it can now," she said.
She has four patents to her name and mentors women in technology. The self-proclaimed "techie" says that technology has changed "everything we do."
While many teachers—and mothers—criticize their children's social media activity, Dr. Legoues is actually an advocate for the use of such platforms. She moved halfway across the world, from a small town in France to the US, and credits social media to keeping her connected to everyone and everything she left behind.
"When we became a mobile society, we lost a level of contact with a network of people," she said. Technology is not only useful for social interactions, but can benefit those with health conditions. She gave the example of her eldest daughter who gained much from technology when she was diagnosed with Type I diabetes years ago. Her daughter was put on a glucose monitor and utilized many other devices that "100 years ago was 100 percent fatal but now, this type of diabetes is just a massive annoyance," she said.
"The brain is so complicated, we are just starting to understand it," she said. Those with physical limitations can still sometimes outsmart a computer. She said that random phrases and puns can sometimes be misread by a device, as in the case of IBM Watson in 2011, a machine that won the TV game of Jeopardy—but got the final answer incorrectly. How did that happen? The game show Jeopardy often plays on words and the computer did not program in that type of wit into its algorithm. The human brain analyzes, defines and is flexible, even after a stroke. Robots have been helpful in other ways, too. Some robots have been helping children in wheelchairs learn how to build social connections, because their chair provides an instant barrier to others and doesn't allow them to participate physically due to space. These robots can help build pathways to allow these children to playfully engage with the robot in a way that would later become useful when in the presence of other children or even adults.
Tablet computers, smart phones and apps on those devices have elevated the level of confidence for individuals with physical challenges. Tablets help their users with physical limitations surf the internet and become more independent overall, since they often have the ability to tap repeatedly on the device to prompt different services or applications.
Technology has brought a positive impact on society and should be valued for what it does to people.
"I'm so excited to be sharing things with friends and family who can't be here. It creates deeper connections, Facebook re-introduces the village," Dr. Legoues concluded. #