Matilda Cuomo Gives Award to Dr. Jeffrey Lieberman at Mental Health Foundation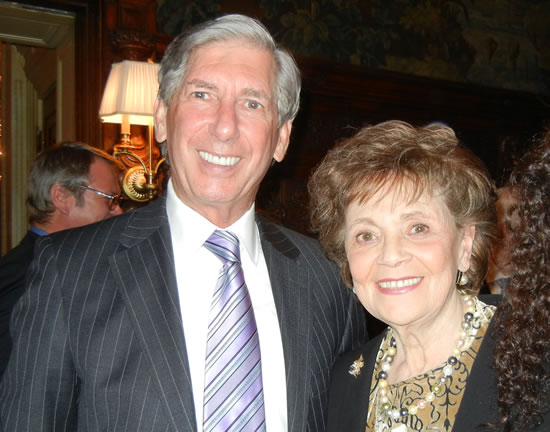 Jeffrey Lieberman & Matilda Cuomo
Dr. Jeffrey Lieberman, chairman of Psychiatry at the Columbia University College of Physicians and Surgeons and Director of the New York State Psychiatric Institute, was the guest of honor at The Mental Health Foundation's second annual Special Evening in New York event for his years of leading work in the field of mental illness. Former First Lady Matilda Raffa Cuomo gave the award this month at The Christopher Columbus Citizens Townhouse on the upper eastside.
The event, which was emceed by Newsday columnist and TV commentator, Ellis Henican, kicked off with Steven Podaris, president of the Mental Health Foundation who praised Mrs. Cuomo, a foundation board member, for her years of commitment. Podaris gave a little background behind the foundation's It's Okay To Talk About It Grant Program, which uses a peer-to-peer approach with young people suffering with mental health issues. It's Okay emphasizes the message of hope. The grant program supports other programs that Podaris said really make a difference in the lives of young people.
"While we have been able to make some modest contributions over the last five years, I think what is important … is that the programs that we are supporting are really reaching young people," said Podaris.
Cuomo put into perspective the importance of addressing mental illness among young people today.
"There are too many examples of young people today suffering because they can't and or won't ask for help." She continued, "We must improve early treatment that will enable people to have healthier and happier lives."
In 1987, Mrs. Cuomo began the New York State Mentoring Program, an initiative based on the idea that the difference-maker between children who thrived and those that don't was a caring adult. The program was canceled but Mrs. Cuomo began a private program, Mentoring USA, to continue the mission as it's done since 1995. The program has gone international with sister programs in Italy, Spain, Morocco and interest in Holland, Switzerland and the U.K.
Dr. Lieberman, who is also the president of the American Psychiatric Association, humbly accepted Cuomo's introduction and praises. Although mental illness, like cancer or diabetes, is endemic to the country's population, it has historically been ignored or discriminated against, said Lieberman to the audience. This negligence was and is most evident in the military, he commented. During World War I, soldiers contended with shell shock; in recent wars of Iraq and Afghanistan, it's Post-Traumatic Stress Disorder (PTSD).
"In mental illness, the sweet spot is when they are young," said Lieberman. Early identification and signs of mental illness in young people will give them a chance to get on the right course in life and save the health care system the expense of what would be life-long care of their illness.
Lieberman mentioned the advances that have been done in the study of mental illness with psychopharmacology, genetics, neuroscience and other scientific technology. But more needs to be done, starting with perception and money, he suggested. A strong proponent of this approach is the founder of the Jed Foundation, Donna Satow, who was present during the evening.
Despite poor funding, Lieberman remains hopeful. "The best way to make progress…is through organizations like this that bring people together, forge a commitment to a common agenda, and to basically move the ball down the field with respect to this cause."#