Crohn's & Colitis Foundation Luncheon Honors Women of Distinction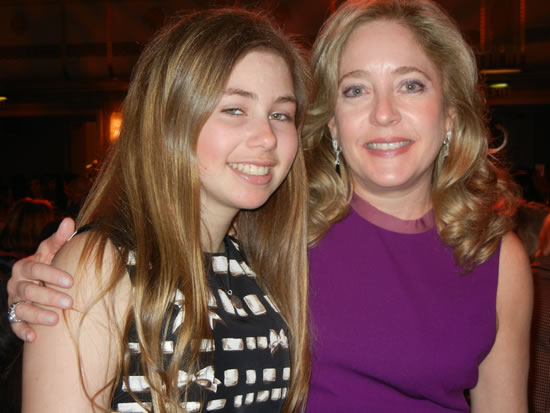 Molly Roberts and Dr. Robbyn Sockolow at CCFA Luncheon
The Greater New York Chapter of the Crohn's and Colitis Foundation of America (CCFA) recently held its 21st annual Women of Distinction Awards Luncheon. The funds raised through the event are used to support research for treatments for not only the symptoms of Irritable Bowel Disease, but also to treat the cause of it. The grand ballroom of the Waldorf-Astoria was overflowing. Festivities included an awards presentation, a silent auction, and a fashion show, sponsored by Bergdorf Goodman.
This year's top honor recipient was Dr. Robbyn E. Sockolow, MD, the director of Pediatric Gastroenterology and Nutrition, New York Presbyterian Hospital, Weill Cornell Medical College. Dr. Sockolow is board certified in both pediatrics and pediatric gastroenterology and has dedicated work to helping the lives of children suffering from GI diseases such as Crohn's and ulcerative colitis. Working in the field for almost twenty-five years, she has seen mass change occur. "One day there will be a cure for IBD and I will retire but until then you can count on me to be there for you and for your children in holding your hand the entire time," stated Sockolow a promise of her commitment to her patients and their families.
In addition to the Woman of Distinction award, the CCFA also honored two Rising Stars, Casey Mintz and Taylor Sinnett. Mintz was diagnosed with ulcerative colitis at the age of 11 and since then has had multiple surgeries related to her disease. She stated at the microphone, "It was not my wish to be the poster child of a disease, but I am happy to help others." Another brave young woman was Molly Roberts who has overcome surgery and begun a jewelry business online that dedicates all its profits to CCFA.
Crohn's disease and ulcerative colitis are both major categories of Irritable Bowel Disease (IBD). IBD affects over 1.4 million Americans and children are the fastest growing patient group suffering from the disease. The mission of CCFA is to find a cure for Crohn's disease and ulcerative colitis. Since 1967, the CCFA has been a leading organization in advocacy and research efforts for IBD and a support system for children and adults living with IBD. The organization provides research, educational, and support programs for patients, their families, and health care professionals.#