DISTINGUISHED LEADER IN EDUCATION 2014


Dean Jerrold Ross
St. John's University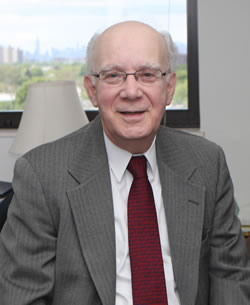 The career of Dr. Jerrold Ross has been long and diverse. Born and schooled in New York City, he attended the High School of Music and Art, Queens College for his Master of Science degree, New York University for his Bachelor of Science degree, and later, the Ph.D., all in music education. In 1997, Emerson College (Boston) awarded him an honorary Doctorate of Humane Letters for his work arts education.
In the field of higher education, Dr. Ross held the positions of president, at the age of 30, of the New York College of Music (New York's oldest conservatory). He then moved to become Chair of the Department of Music and Music Education and subsequently Associate Dean for Academic Affairs at NYU's School of Education (now the Steinhardt School). During that period, he was also Director of Town Hall, then owned by NYU. One of the key programs he introduced on that stage was the "Legendary Ladies of the Movies," expanded by the Kennedy Center into what we all know as the "Kennedy Center Honors." From the NYU position, he moved to St. John's University where, since 1995, he has been Dean of The School of Education. The New York City Department of Education rankings placed St. John's at the top of several categories, the most important being the appointment and continuing tenure of teachers in the City's schools. St. John's School of Education, which recently celebrated its 100th anniversary, is also renowned for its many partnerships with public, charter, and Catholic schools. Along with Chancellor Carmen Fariña, he believes that "all schools are part of one City."
From 1967-2003, Dr. Ross was president of the Board of Trustees of the Usdan Center for the Creative and Performing Arts, the nation's leading summer arts camp for children, ages 6-19, where a new building for early childhood was named in his honor. Dr. Ross' other work includes having obtained grants and research contracts from the JP Morgan Chase Foundation, the Andrew W. Mellon Foundation, the National Foundation on the Arts and Humanities, The U.S. Department of Education and the National Endowment on the Arts among many others. #