Jerrold Ross, a Master Teacher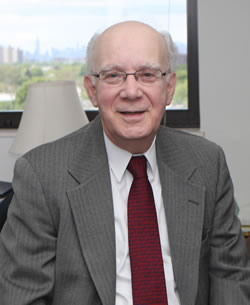 Good teachers do finish first. That's certainly what Dr. Jerrold Ross, a 50+-veteran educator can attest to by the show of love and support he received at an event last month in New York honoring his years of service and his retirement from St. John's University.
The public event was held at the New York Hilton Midtown and not only celebrated the life's work of a renowned education leader, but raised more than $125,000 to support the Jerrold, Alice and Murray Ross Scholarship for Graduate Education. The scholarship raises money to assist deserving students who desire to pursue a graduate degree in The School of Education.
For 19 years, Dr. Ross has served as Dean of The School of Education. A colleague, Peg LaRosa D'Angelo, an alumna of The School and chairperson of Ross's celebration committee, sang Dr. Ross's praises. She said of Dr. Ross, as reported by St. John's news, "This is a very joyous celebration for a wonderful man, someone who is a great scholar and who loves the University and The School of Education."
Other colleagues and friends spoke comically and reverently about the honoree. President of St. John's University, Rev. Joseph L. Levesque, took to the podium.
"Well I'm honored that Jerry Ross asked me to say some words on this great night of celebrating himself," he said in his opening to an amused audience. He said he anticipated the event to be more like a coronation but a well-deserved one.
All jokes aside, Rev. Levesque's admiration for his colleague was bountiful as he spoke on Dr. Ross's work with pre-service teachers.
"Jerry Ross is a builder of the universe of teaching excellence, " said President Rev. Joseph L. Levesque (as reported by St. John's news).
The evening's conversation turned to Dr. Ross's legacy—what it will be for The School of Education. Retired educator of NYC public schools, Geraldine DiPersia, also an alumna, reportedly said "I think his legacy will be that he was really open and brought The School of Education to the forefront in New York while giving the students who were preparing to become teachers a global perspective."
For Dr. Ross, his legacy has yet to be formed. The retired educator intends to keep his educational embers burning by continuing to work with young children, even on a voluntary basis. "As I look at it, you can never stop being a teacher. That's really the beauty of being involved with education on any level. There are always so many things to teach, and there will always be so many people eager to learn," he reportedly said.
Dr. Ross earned many accolades over the years. Starting out as a public school music teacher in Syosset, Great Neck and New York, Ross earned a Ph.D. in music education from NYU and eventually became associate dean of academic affairs in the School of Education at NYU. He directed research and training projects throughout the city and in keeping with his connection to students of all ages, served as a board member and secretary of the Alumni and Friends of LaGuardia High School of Music in New York City. Dr. Ross was a founding board member of the national accrediting group, Teacher Education Accreditation Council for eight years. He served as a Teacher Education Certification and Practice Board member and evaluator of programs in higher education programs for New York, New Jersey, Connecticut and Rhode Island. In June 2006, Dr. Ross received the Distinguished Achievement medal as an administrator at St. John's University.
Further capitalizing on Ross's honors for the night were proclamations and certificates signed by the Queens borough president of New York City Council, Gov. Andrew M. Cuomo, Mayor Bill de Blasio and Sen. Chuck Schumer. The proclamations certify that April 28 is Jerrold Ross Day in Queens and Manhattan.
Job well done, Dr. Ross.#