Barnard College Student Leadership Awards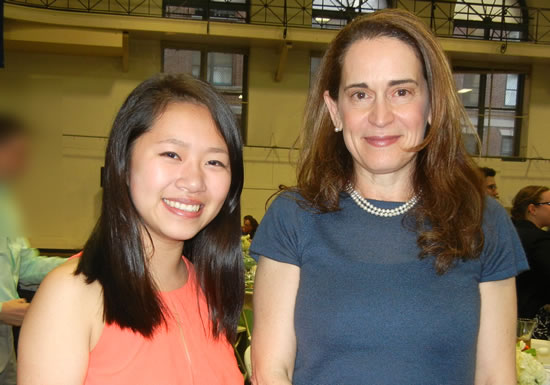 (L-R) Julia Qian and Debra Spar
Students at Barnard College recently came together for a dinner celebration in honor of leadership at their school. Barnard College President Debora Spar welcomed her students and praised their leadership skills.
"This is always one of the loveliest events of the year although it is bittersweet because it means saying goodbye to people who have done so much for Barnard College," she said. President Spar talked about what it means to be a student at Barnard, a pioneering force in undergraduate women's education, since 1889, and how the girls have provided a wonderful support system for each other in their clubs, community work, classrooms and in life. The simple activity of convincing a classmate to change an idea is an act of leadership. She applauded the work at the College's Athena Center for Leadership Studies, which is "dedicated to the advancement of inspired and courageous women leaders around the world."
Leadership is one of those tricky things to define, she said. We are living at a time when the need for leadership is vital in all areas of society. Despite our advancement in all fields, people tend to underestimate women. "When many of us think about leadership, we tend to think—still—of a man, standing on a stage, or rallying a crowd or leading an army into battle. But, of course, real leadership is much more varied phenomenon—and a much more subtle one," she said.
She gave an example of a good leader, "it's not about claiming my idea, it's about developing our idea," President Spar said. It is not enough for Barnard students to be smart, and to do well academically, but it is essential for each student to translate ideas into actions by engaging those around them.
"I am really proud of us for making this community what it is. I suggest for us students to keep pushing, keep creating and keep molding Barnard into what we want it to be," current student and Student Government President, Maddy Popkin said. Among the honorees was Julia Qian, a student from Shanghai who has interned at Education Update and is the mentee of publisher Dr. Pola Rosen whom she calls her "New York mom!"#