Partnership for After School Education Raises $700,000 at Gala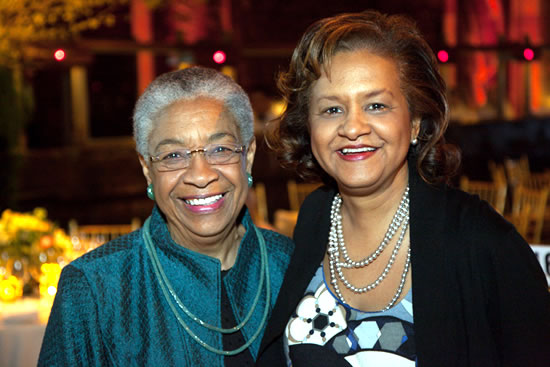 (L-R) Fern Khan, Dean Emeritus, Bank Street College of Education &
Deborah C. Wright, Chair & CEO of Carver Bancorp
More than 500 people celebrated the 2014 PASEsetter Awards Benefit with the Partnership for After School Education (PASE), including leaders in the youth serving community and youth practitioners, as well as New Yorkers from the corporate community, academia, city government, private foundations and the arts community. The PASEsetter Awards, recently held at Cipriani 42nd Street, honored five exemplary afterschool educators along with one Afterschool Champion, Deborah C. Wright, and raised over $700,000.
PASEsetter Awards are given to afterschool educators who demonstrate outstanding commitment, energy, and creativity in their work, and who achieve excellence in and exhibit true devotion to improving the lives of the young people in out-of-school time. Winners receive a crystal award, a $5,000 donation to their organization, and 100 Mets tickets for their youth and staff.
This year's PASEsetters are:
Antonio Aponte – The Boys' Club of New York
Stephane Derisma – The Action Center for Education and Community Development Inc.
Laura Jankstrom – Citizens' Committee for Children of New York
Durice Jones –New York City Parks & Recreation - Alfred E. Smith Recreation Center
J. Christopher Neal – Coro New York Leadership Center
Alison Overseth, Executive Director of PASE, said, "It is an honor for PASE to be able to celebrate the wonderful work that is done on a daily basis in afterschool programs throughout the city and the transformative impact that afterschool professionals, like our five PASEsetter winners, have on the New York City community."
In addition to celebrating the five PASEsetter Award winners, PASE honored Deborah C. Wright, Chairman and CEO of Carver Bancorp, a longtime friend of PASE and supporter of the afterschool community in New York City, as an Afterschool Champion.
For more information on the PASEsetter Awards or the award recipients, please contact Marcia Smith or visit www.pasesetter.org.#