NASA Astronaut Visits Teachers College Community School
By Patricia Lavelle & Omoefe Ogbeide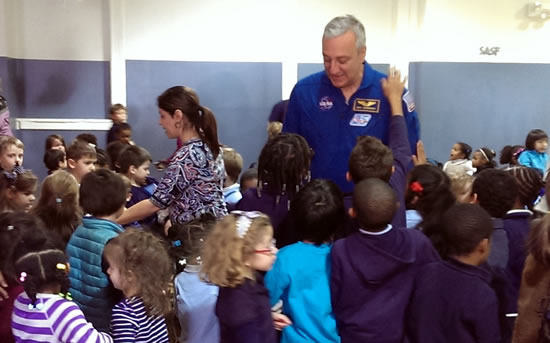 According to NASA astronaut Michael Massimino, exposure is the key to getting children interested in the sciences. At a recent event at Teachers College Community School, Massimino provided that exposure by sharing his experiences in space with students from kindergarten through second grade. Students were given the opportunity to probe the veteran astronaut's brain on life in space from what earth looks like to what his favorite space foods are. The air was filled with the tiny, raised hands of eager students interested in learning more about life as an astronaut.
In addition to answering their questions, Massamino advised his fascinated, young audience to study what they love. It was his own love of math that led Massamino to where he is today. As a young person in middle and high school, he enjoyed solving math problems and studying chemistry. The ability to use the theories of math and science that he learned in his studies attracted Massimino to a career in engineering accomplishing heroic mechanical feats in outer space.
After completing two missions to refurbish the Hubble Space Telescope and inspiring George Clooney's character in the 2013 film Gravity, Massimino is currently on leave from NASA to teach engineering at Columbia University. After years of being hands on, he is enjoying this opportunity to teach and work with the next generation of scientists. #