ColumbiaDoctors Ophthalmology's New Vision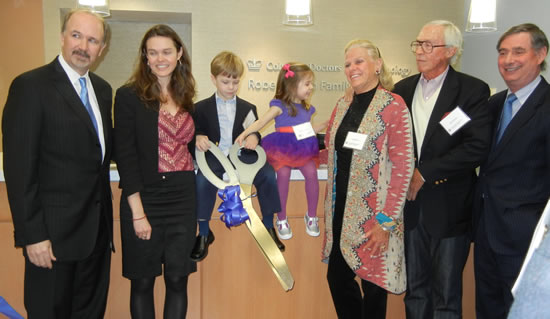 (L-R) Dr. George Cioffi, Kate Burch, Robert Burch V, Serena Burch,
Dale Burch, Robert Burch & Dean Lee Goldman
The Upper West Side now has its own facility dedicated to eye care and treatment. ColumbiaDoctors Ophthalmology recently opened its newest branch in the neighborhood. Renamed "The Robert Burch Family Eye Center," the five-room facility is located on 15 West 65th Street, at the Lighthouse Guild International headquarters, a non-profit agency that provides services for the blind and visually impaired. On opening night, four-year-old Robert Burch V cut the purple ribbon with a giant pair of scissors, as his proud family members, Columbia University Medical Center leadership, staff, ColumbiaDoctors physicians and donors watched.
Philanthropist Robert L. Burch III, grandfather to Robert V, gave a moving speech as he wiped tears from under his eyeglasses. He told the packed audience that he was at risk of losing his eyesight nearly two decades before. After successfully receiving surgery and treatment from Dr. Stanley Chang, his vision was restored and he felt that it was his duty and responsibility to acknowledge that type of work. "When I lost my eye 18-years-ago, Stanley [Chang] gave me hope. Being blind at my age left me paralyzed with fear. Stanley is not only a great surgeon, but a great humanist." Using the latest technology, Dr. Chang used the drug Lucentis to treat his macular degeneration, a medical condition that usually results in loss of vision in older adults.
Burch financially contributed to the cause, and his grandson cut the ribbon on behalf of the family. The Epstein Teicher Philanthropies, the Mendik family, the Jerome A. & Estelle R. Newman Assistance Fund, the Newman's Own Foundation and other supporters, also contributed to this initiative. Chair of the Department of Ophthalmology at Columbia University Medical Center and the Edward S. Harkness Professor, George Cioffi, M.D., also was praised for his role in bringing this visualization to life. "Our practice here will offer a full spectrum of eye care, including the most complex diagnostics and therapeutic interventions," Dr. Cioffi said.
Founded in 1933, with centers in midtown Manhattan and Washington Heights, this is ColumbiaDoctor's third location.
Dr. Steven Brooks, who leads the pediatric ophthalmology at Columbia's Department of Ophthalmology, praised the efforts. "I think this location is convenient for children's eye care," he said. The facility was build "on time and on budget," and the venue was strategically chosen to conveniently provide expert eye care services to young families who reside locally.
"Now, we have the whole city covered," said Lee Goldman, M.D., Harold and Margaret Hatch Professor and dean of the facilities of health sciences and medicine at Columbia University. With 35 doctors and managing 800 patients daily, ColumbiaDoctors strives to set an example for the next generation of leaders in science. It also aims to provide exceptional training and research in the field.
Visiting glaucoma fellowship director Dr. Lama Al-Aswad, who is also the Associate Professor of Ophthalmology and is responsible for training both the national and international glaucoma fellows at Columbia, came to support the center. "We are here to oversee from a distance, and we are very happy that we are collaborating. It is a natural collaboration," she said.
Alan R. Morse, J.D., Ph.D, the president and chief executive officer of Lighthouse Guild, expressed his delight at the progress made. Also, an adjunct professor in the Department of Ophthalmology, College of Physicians and Surgeons at Columbia University, he has been at the helm of the Lighthouse since 1975, providing invaluable aid to individuals with visual difficulties.
The team was happy to show off the floor fully dedicated to eye care. Two of the exam rooms at the location are assigned to pediatrics, with a separate waiting area for children, furnished with colorful educational games and a stack of children's books. Three other adjacent exam rooms are dedicated to adults, with a different waiting room.
This venue is the fourth ophthalmology facility in the New York Metro area, and opened after nearly a decade of collaborations with the Guild. This center will offer general eye services, as well as specialty care, for diagnosis and treatment of glaucoma, cornea disease and retinal disease. The center accepts most major insurance health plans.
For more information, visit www.ColumbiaEye.org.#