Beauty Comes in All Sizes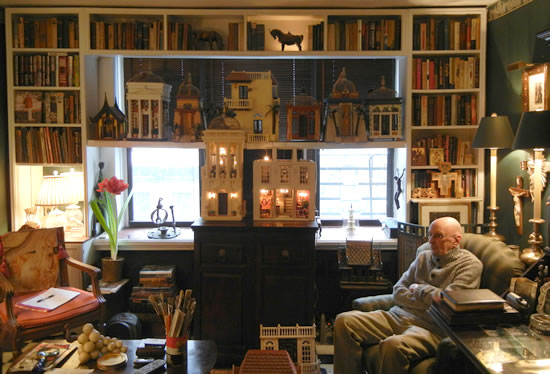 Charles Stevenson in his Apartment
Stepping inside the small, entryway of Charles Stevenson's apartment on the Upper East Side of Manhattan is like entering one of his own masterful miniature dollhouses. Charles Stevenson is a man whose life has had many chapters, ranging from his service in the U.S. Army Transportation Corps. to a career in paperback wholesale accounts with the Association of American Publishers. His expertise in miniature house construction was something that came later in life.
After retiring from the publishing industry in 1996, Stevenson took a part-time job at the still operational miniature housing crafts store, Tiny Dollhouse. It was his experiences there with the owner of the shop that cultivated Stevenson's fascination and hobby with building miniature dollhouse-making for the next few decades. During that time, Stevenson has built a variety of miniature dollhouses that are so meticulously detailed, it is hard to tell that they started as mere birdcages.
Each of the miniature dollhouses are works of art that come to life as Stevenson replicates the picture he sees in his mind with each floor laid and each brush stroke. They are labors of love as each one takes up to a year to complete. Stevenson encapsulates this feat when he admits, "My favorite part is being done." Of his collection, Stevenson is most enraptured by his Richmond, Virginia colonial mansion. Richmond is where Stevenson went to the prestigious Richmond Institute at the College of William and Mary where he took classes in art and architecture. The architectural knowledge of his time there was never lost to him as the neoclassical themes in Southern architecture are prominent in his work.
While the exterior constructions of these miniature houses are truly impressive, the interior design is the true marvel. Stevenson handpicks the fabric and outfits all the rooms with wallpaper, furnishings, and minute detailing. Stevenson purposefully does not include any figurines in his miniatures because in his words "they are not dollhouses to me, they are miniature houses." Each room tells its own story when you observe with a more scrutinizing eye. One of his houses tells us of a man who is a rich merchant with an unhealthy obsession with Napoleon, as surmised through his many portraits of the revolutionary Frenchman in all his rooms. Stevenson's carefully placed additions provide a quiet narration that brings the viewer into his imagination.
While inside Stevenson's apartment, it is impossible to not get wrapped up in the aesthetic pleasure of its décor. Each item of furniture, wallpaper, or lighting fixture seems to be as much a piece of art as the sculptures and paintings on the walls. It is not surprisingly to learn that most of it is another art project turned masterpiece by Stevenson. His handiwork is unmistakably an awe to savor. Like his miniatures, you can see a story play out in the interior of his home. Remnants of family vacations, past friendships, and thoughtful gestures are displayed with the same care as in his miniatures. Most apparent are the photos of him and his late wife, memories of a man in love with a young French beauty.
With an unfinished miniature in its third year of production, Stevenson revealed that he is perhaps done with making miniature houses. And so he looks for a new hobby to put his skills. Stevenson might be leaving behind miniatures, but if his past is any indicator of future ventures, Stevenson will find a way to create beauty with whatever he is given. #