GUEST EDITORIAL
Women: The Movers and Shakers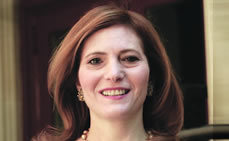 Scroll through a list of U.S. secretaries of state and you'll note that from 1790 to 1997, each was a white male. Keep scrolling and you'll see that over the next 16 years, three out of four – Madeline Albright, Condoleezza Rice and Hillary Clinton – were women. (The fourth, Colin Powell, also broke the mold as an African American.)
Does anyone truly believe it took 207 years before women finally became capable of holding this office? Of course not! Women have always possessed the energy, intellect and courage to take on great tasks. The proof of that, for anyone who remains skeptical, is the multitude of ways in which they have emerged in business, academia, the law, government and dozens of other fields in the few short decades since old barriers began to fall and doors of opportunity opened.
Full equality of opportunity – and pay – is still to be achieved. But no thinking person can deny the contributions women have made and are making in ever-growing numbers. They have led many of the world's largest and most important nations (think Indira Gandhi, Margaret Thatcher & Angela Merkel). One third of the Supreme Court is female. So are the heads of the Federal Reserve Bank and the International Monetary Fund. The CEOs of General Motors, IBM, PepsiCo and Yahoo are women. The list goes on and on, and includes the remarkable women profiled in this issue of Education Update.
All of us at Hunter feel strongly about this issue. Our college was founded by a visionary Irish immigrant, Thomas Hunter, who in 1870 established a school to prepare young women as professional teachers. It was a bold concept at the time, and so, too, was his opening the school to all, regardless of ethnicity, religion, race or social status.
Building on our namesake's vision, Hunter has emerged as a national leader in advancing women and minorities, especially in the sciences. We are proud that Hunter is the only college in the world to produce two female Nobel Prize winners in medicine, Rosalyn Yalow and Gertrude Elion. We are equally proud to be the alma mater of one of the giants of the feminist movement and a pioneering political leader, Bella Abzug.
And we are honored by our ties to one of the greatest figures in history, Eleanor Roosevelt. She was such a frequent visitor to our campus and a mentor to so many of our students that she was once called "the only unpaid member of the Hunter faculty." It was she who proposed selling Hunter the townhouse on East 65th Street where she and FDR had lived since shortly after their marriage. We maintain Roosevelt House now as a think tank devoted to many of the causes Eleanor fought for ­– enlightened and informed public policy, education and human rights.
She once said, "The battle for the individual rights of women is one of longstanding, and none of us should countenance anything which undermines it." Advice that all of us must follow – always.#
Jennifer Raab, J.D. has been the President of Hunter College since 2001.