WOMEN SHAPING HISTORY 2014
Jo Ann Corkran:
Golden Seeds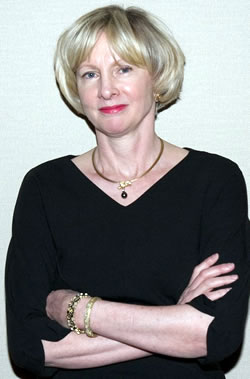 What has inspired your current career path?
I have been lucky enough to make substantial shifts in my career every 10 years or so. Building on what I know but adding a new learning curve that keeps the excitement and fun (and stress) high. Moving from public fixed income asset management to private placement equity management leverages my wall street institutional deal skills and my experience helping my husband fund and grow a business that he eventually sold to a public company. And I love evaluating and helping entrepreneurs with new ideas.
What are some of the greatest challenges you've faced? How did you overcome them?
I feel I'm an emotional person, and have had to work hard to separate emotional responses from factual responses. Whether things are going well or poorly, I always need to be sure I separate the causes from the effects. To this end, I keep a notebook of mistakes; there I try to examine what went wrong, my understanding of the facts or my analysis or extrapolation of them. I know I'll make mistakes again, but my goal is to not make the same mistakes repeatedly.
Raising children, when both parents having demanding full time jobs, is an enormous challenge. Selecting a spouse who was prepared to be a 50-50 partner on all aspects of that adventure helped make that possible (although that was and still is a major challenge) .
What are some of the accomplishments you are most proud of?
Helping to grow one of the largest angel investor networks in the US is certainly something I feel good about. Having done that at Golden Seeds, where we focus on early stage companies with at least one woman in an influential senior job and a substantial equity ownership position makes me enormously proud.
Who have been the most influential mentors in your life?
There are lots of them. My parents, who insisted I get a degree in the sciences and never go to a job interview where they asked how fast you type. One of my first wall street bosses who taught me (among many other things) to collaborate first - not compete - with colleagues, listen more than you talk, and never burn a bridge. My husband who never ceases to amaze me with his ability to re-examine even long-held beliefs when the facts suggest otherwise.
What would you describe as a turning point in your life?
There were two. I had always expected a life in teaching and research. After undergraduate school, I needed a job before I could afford more school. My first job was such an affirming experience I knew a career in business was going to be my path. In 1985, while filling in applications for business school, I was recruited by a wall street firm. Weighing those two paths, and choosing First Boston was the second turning point. Again it was work, not school.
What are your goals for the future?
I have many, many goals, from the sublime to the banal. Several job related ones are: Help make a few of the female entrepreneurs in the Golden Seeds portfolio rich- though their efforts helped by our capital and counsel. And give these entrepreneurs, and the early stage, angel investors (many of them also women) that do the heavy lifting on their corporate and advisory boards, the experience to be considered for public board service.#