WOMEN SHAPING HISTORY 2014
Cecelia McCarton, M.D.:
The McCarton Center for Developmental Pediatrics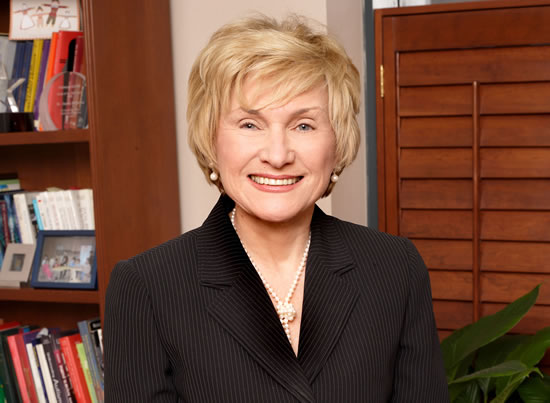 What has inspired your current career path?
Which one? You might say I have multiple career paths. I'm a physician, with a private practice on the Upper East Side and one opening in Dubai. I'm an educator, serving as the Executive Director of two private schools for children with developmental disabilities, and I'm the Founder & CEO of a nonprofit foundation focused on educating and empowering children with autism.
But in all of these endeavors, my greatest inspiration has been the children, my patients and students. They inspired me to start my practice, and it was for them that I created the schools and the foundation.
Because of that, my career path is ever evolving. When I see an opportunity for me or my organizations to bring about positive change in the lives of children, I jump at it. What I'm doing now looks drastically different from where I was 20 years ago, but I believe all my combined experience has led up to this. It serves me in what I'm doing today.
What are some of the greatest challenges you've faced? How did you overcome them?
When I decided to open the McCarton School, there was certainly a lot of unknown. I knew there was a deep need, I knew the integrated model I developed worked, and I was confident that the team of educators and therapists I assembled would be exceptional. But when it comes to running and operating a school there are so many specific issues, obstacles I had never faced in any other business, and some that were perhaps being tackled for the first time anywhere. We were building something very unique, there really wasn't anything else quite like it out there. So we didn't have the luxury of looking at other similar programs and saying, 'Well, this is the way it's done in the industry.' We had to create it.
We learned from our mistakes, and never stopped growing and adapting. In medicine and in education, you must have a willingness to challenge the status quo. This is necessary to see your business in another way, to be able to use accepted standards and methodologies while, at the same time, not being constricted by them.
What are some of the accomplishments you are most proud of?
I think the last ten years of my career have been some of the most exciting, and some of the most impactful. What we've done with the McCarton School, the Children's Academy, and the McCarton Foundation make me very proud. I'm also very pleased with the work I've done at the McCarton Center, and excited about the children I'll be able to help at the new center in Dubai.
Who have been the most influential mentors in your life?
My parents, my children, my husband, my staff. I have staff who have worked for me for decades, their entire professional careers. We've mentored each other.
Then there are my patients and their parents. They are everyday mentors for me.
What would you describe as a turning point in your life?
There have been several. One was when I made the switch from academia to being a practitioner. I am proud of the work I did at the Albert Einstein College of Medicine, but there came a point when I felt I would have a greater impact through my private practice. Then when I made the decision to open the McCarton School. It was such a leap, an entirely new business endeavor, and it turned out to be one of the most rewarding experiences of my life.
What are your goals for the future?
To continue to improve the lives—and the quality of educational resources available — to children with developmental disabilities. As I mentioned, my career is ever evolving, and I've learned that I can't necessarily predict the specifics of its course. However, I'm sure that whatever course it takes will be shaped by the needs of the children, and so I will be proud.#