NYU Education Series on Testing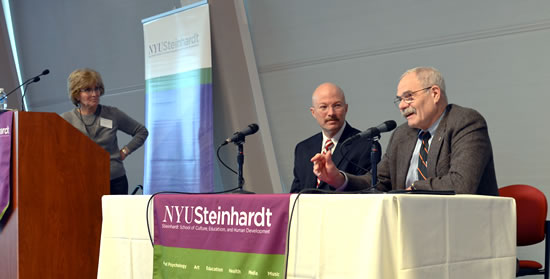 (L-R) Moderator, Sharon Weinberg, and Panelists Howard Wainer and George Noelle. Photo by Debra Weinstein
Patricia Lavelle reviews part two of the annual Education Policy Breakfast at New York Univerity. This sessions topic was about testing.
New York University, NYU, NYU Steinhardt School of Culture Education, and Human Development, NYU Steinhardt, NYU Steinhardt School, Education Policy Breakfast, NYU Education Policy Breakfast, Kimmel Center for University Life, testing, Howard Wainer, The Benefits of Testing and its Consequences, Georger Noell, professor of psychology LSU, professor of psychology Louisiana State University, Louisiana State University, Testing and Policy: what is best for our city and nation, Patricia Lavelle
New York University's Steinhardt School of Culture, Education, and Human Development recently hosted part two of three of its annual Education Policy Breakfast Series for the 2013-2014 academic year at the Kimmel Center for University Life. Now in its fifteenth year, the series of events has continually brought individuals from a broad spectrum of fields to discuss hot topics in the realm of education. This year's series is focused on an increasingly popular topic in education conversation, testing.
Distinguished research scientist and panelist, Howard Wainer prompted, "Tests certainly have all sorts of problems but compared to what? What's it like without them?" While the first part of the series focused on the historical and economic viewpoints on the testing business, the second session was entitled "The Benefits of Testing… and its Consequences." Wainer and fellow panelist George Noell, Professor of Psychology at Louisiana State University hashed out the different views on the positives and negatives of test use as a measure of both student and teacher evaluation and the impact of missing data on the validity of test results. Wainer discussed his research and his belief that the standardized tests provide a valid prediction of how well a student will perform at the college level. Noell discussed testing from his perspective, as an advisor to policy makers at the state and federal level. Noell, whose work is focused on insuring children high quality education, used his research to explain how student educational outcomes may be an indicator for the quality of educator preparation. After presentations from both, questions from breakfast attendees were taken by the two guest speakers who were both eager to answer the various questions from their distinct viewpoints on testing.
The event provided much information the highly contested subject and hopes to continue the conversation in its third and final session being held later in the academic year. The third session of this year's series, entitled, "Testing and Policy: What is Best for our City and Nation?" will take place on Friday, April 18, 2014.#
Patricia Lavelle is an assistant editor at Education Update and a student at CUNY Macaulay Honors College.