Exclusive Interview: President George J. Hagerty, Beacon College
By Joan Baum, Ph.D.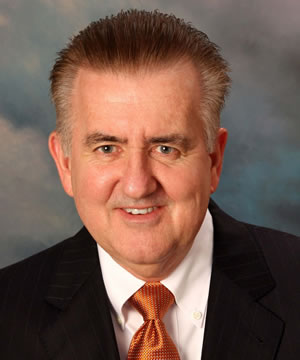 "First" does not necessarily mean "best," but in regard to Beacon College, in Leesburg, Florida, the fact that this small, private, four-year institution for the learning disabled (LD) and those with attention deficit hyperactivity disorder (ADHD) got there first as a regionally accredited college, when similar institutions were offering only limited or associate degrees, says something about the prescience of its founders. Most certainly, it says something about its new president, Dr. George J. Hagerty. Barely completing his first year at the helm, he is already working to ensure that the Beacon beam shines even more brightly and over a wider area, lighting the way for young people diagnosed with a learning disorder and proving that "learning differently can be learning to succeed." It's a mission that Beacon has been "quietly and tenaciously pursuing" since its inception 25 years ago and with remarkable results, as measured by retention rates (84%), four-year graduation rates (77%), competitive job placements (70+%) and growing acceptance into graduate programs across the country. It's also a goal that, by way of enhanced curricular offerings and expanded support services, is intended to put Beacon on the map nationally, even internationally, the president says. (Beacon students now come from 36 states, approximately 40 percent from Florida and 15 percent from New York; students also come from six countries.)
It should be noted that CEOs of course present visions with confidence, but a conversation with President Hagerty makes it clear immediately that he's the real deal: a professional whose expertise is at the service of his heart. When he assumed the presidency of Beacon College last March, George Hagerty brought to his new post varied and extensive administrative and teaching experience, not to mention a deep commitment to special education that enhances a lifetime's work. He also brought with him personal understanding of succeeding with a deficit. Though contracting serious eye disease at the age of 19, he successfully attended Stonehill College, a small, private, coeducational, Roman Catholic, liberal arts college located in Easton, Massachusetts, and then went on to complete doctoral work to Harvard where, under the mentorship of Professor of Sociology Charles V. Willie (b. 1927), he focused on policies regarding government and race relations. Legally blind, George Hagerty had been disposed to pursue special education, but a heritage of caring about others also disposed him to pursue the highly charged arena of desegregation.
His resume reflects a rich and diverse career. He was a post-doc fellow at the U.S. Department of Health, Education and Welfare and was appointed Chief of Compliance and Enforcement in the Office of Special Education Programs. He is President Emeritus of Franklin Pierce University in Rindge NH where he served for 14 years before becoming Provost and University Professor at Hellenic American University in Athens, Greece. Shortly before assuming the presidency of Beacon, Hagerty headed up University Advisors International, Inc., a U.S.- based international investment and consulting company counseling institutions of higher education, nonprofit organizations and corporations world wide. He speaks of himself "genetically" as faculty, however, noting how influenced he was as a child when his mother, a special ed teacher, would bring home students for more assistance, and how impressed he was by the Beacon faculty when he went to interview.
Faculty at mainstream universities, even those with programmatic investments in LD and ADHD, tend to teach to the center, he says. It was apparent to him at once, however, that Beacon designed curricula for "all students on the spectrum," and that by limiting class size to 15, instituting weekly sessions with a highly trained specialist and acquiring needed resources for math and writing labs and support services, Beacon was truly putting its students into a "nurturing environment." The president pauses before adding with a chuckle that he was skeptical at first about the advertised rates of success. Was there a secret formula? Well, yes there was: Beacon delivered by creating a unique "mentality" about "exceeding ambition," by structuring in only ten years a strong liberal arts curriculum and by addressing the "whole student." Typically, LD/ADHD issues are the focus of K-12, but at Beacon, thanks to the activism of LD/ADHD parents, students are seen creatively as "right brain thinkers in a left-brain world."
He was impressed with the college's achievements, he says, and he is delighted to be adding to them. Students now get a Life Coach starting in their freshman year, someone who will watch over their "socialization," including cooking, living with a roommate, becoming independent –concerns that at mainstream institutions tend to be overseen by R.As. He's building out the major courses of study: Business Management, Human Services (the most populous), Psychology, Computer Information Systems, Interdisciplinary Studies, but he's also on the move to develop programs in Entrepreneurship and Studio Arts and senior-year career development internships.
As for his own future, he notes that he can't drive and he admits to difficulty reading, but, he does indeed know how to learn differently and achieve. For further information: www.beaconcollege.edu #