Hunter Autism Research, Practice, & Policy Center: Exclusive Interview with Dr. Michael Siller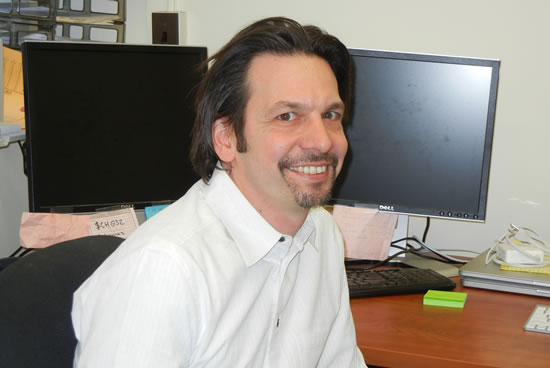 Dr. Pola Rosen (PR): Michael Siller is in the Communication and Play Lab in the department of physiology at Hunter College. We are going to be discussing some of his work in the field of autism.
Michael Siller (MS): I am a child development person and I am really interested in autism.
PR: Would you say that your main focus here is autism?
MS: Yes, almost exclusively.
PR: What are some of the other disabilities that kids have come here to Hunter looking for help?
MS: I co-direct the Hunter Autism Research Practice and Policy Center (HARPP) with John Brown. He is in special education. The HARPP center is essentially an attempt to bring people together at Hunter College who work in the area of autism. It is a very eclectic group and we are very loosely connected. The HARPP Center doesn't have space. We are not a physical entity but a faculty group that comes together. John Brown really developed a postgraduate certification for individuals who work in the field.
PR: Does that certificate enable people to get a job? What does it enable people to do?
MS: All of the people who are enrolled in this program already have a license as a teacher or social worker. Then, they get this training on top of it. It is a sort of mid-level certificate. There is one piece missing in the acronym, which is education. The HARPP Center has a sort of broad range of goals. The biggest one really is to educate students at Hunter about autism and train them in the field. We try to generate new knowledge. We strive, not only in educating our students, but also in educating those already working in the field. We provide continuous education for teachers. I work a lot with physicians, teaching them about early identification. The HARPP Center is trying to change practice in New York and are working in the policy area, as well. Hunter runs the Roosevelt House, a public policy institute. We held a round table discussion in 2011 about toddlers with autism. We hope to have another round table this fall about adults. Most people who contact us are concerned parents, a rising population due to higher awareness these days.
Patricia Lavelle (PL): What made you to want to get involved in autism?
MS: Since I was a teenager, I have been involved. At the time, which was 1989, I had worked in an orphanage in Germany where I am from. I worked with children with disabilities and one of them was autistic. He was six years old and he did not talk. He was difficult, but I found him lovable and interesting in his own way. At the time, society seemed to blame the parents for having children with disabilities, following the tradition of Bruno Bettelheim. Many children were sent to institutions away from their parents as a result. They were very caring, but they lacked the use of research. I decided to go to the U.S. to learn about the research done in the field of autism. I really loved the work that was done in the field and have been practicing it ever since.
PR: What kind of research have you done that is the most impactful in dealing with this issue?
MS: I had an important mentor named Marian Sigman at University of California, Los Angeles (UCLA). She was known for understanding the social difficulties early on in the child's development. She had the insight to follow the progress of each child as he or she got older and basically followed that longitudinal model until she died.
PR: Did you follow-up with that six-year old boy in Germany?
MS: When I got to visit Germany, I would touch base with him. He still did not talk and was difficult socially, but he remembered me and the games that we used to play together.
PR: If you met him today as a six year old, what would you do differently? Would you have institutionalized him?
MS: No. He should have been at home with his family. The institutions in Germany, at the time I worked there, were not very inviting towards parents. The problem they saw was that during the family visits that occurred every six months, children would be given sweets and stimulation that they were not afforded otherwise. When they would return, the institutions would not be able to successfully reintegrate the children. However, the institutions should have better understood the need for family in the children's lives and encouraged visits.
PR: How do you interact with kids with autism?
MS: I strive to exhibit the traits of a caring parent in my interactions. Marian Sigman used to videotape the parents of the children talking with them.
I would study those tapes and code them as I saw different practices representative of good parenting. These included responsiveness, warmth and parents talking about things interesting to the children. Although different from the philosophy of the time to give the kids structure, I maintained that the parents would be required to be responsive in some way to the children. My findings were that children who had more responsive parents would develop better language skills later on in life. In fact, parents were not to blame for having children with autism, but rather, it was just that they would be required to be more responsive to their children than parents of non-autistic ones.
PR: That is such an important finding. It used to be said that parents of children with disabilities were "refrigerator parents." It was the philosophy that the parents were somewhat nurtured to be incapable of bearing normal children.
MS: Yes. In the 1980s, studies veered from that way of thought. My study showed that, although parents were not the cause of autism, what they input into the child's development matters a lot.
PR: What intervention type is the most productive in treating the child?
MS: It is complicated, because it is very difficult work. Autism is hard to identify in children ages 18 to 24 months. We work with early intervention providers, we offer workshops, but it is not always effective, because of the lack of children provided for our research studies. We are given children from Weil-Cornell, but diversity is not always well represented. Also, in the toddlers, the pace at which each child develops differs greatly and it is not easy to understand this. The parents of these children have many worries and are not always interested in anything but direct healthcare and not interactive lessons in communication.
PL: What kinds of things do you tell the parents?
MS: We give them access to early intervention providers. We encourage parents to reach out to these services. We also encourage the parents to use their own judgment and play active roles in their children's development.
PL: Do you incorporate educators into the caregiving mix?
MS: We believe that everyone involved with the children should be on the same page. Teachers may not be trained in dealing with autism, but that is changing. The NEST program, originally headed by Shirley Cohen and now by her successors Angela Mouzakitis and Jamie Bleiweiss, trains teachers in the New York City public school system to come up with consistent plans and goals for engaging the autistic spectrum.
PR: New York is a culture of inclusion. Should these children be included with non-autistic children?
MS: Absolutely. It is very important to incorporate these children with the rest of the environment.
PR: Are there any outstanding programs that you recommend?
MS: Cathy Lord's program in Westchester is the best for diagnosing children. YAI plays an important role in early intervention. It also has an autism clinic. Weill Cornell is also good for diagnostic assessments. However, on a whole, I would not recommend any one program as the one and only decision.
PR: If a parent says "will my child ever improve?" What do you say to that?
MS: The truth is that we do not know. It is very hard to predict how this kid will look like at the age of 18. We are aware that autism is a very broad spectrum. I used to think that 70 percent of children diagnosed would never learn to talk. That is different now. We believe that 90 percent will learn to talk, many will go to college and some will have very good social lives, and even families. However, many will have more difficulties. I was just part of a study involving adults with autism looking for jobs. We had a twelve-week program where we taught interviewing skills. Even though many were intelligent enough to qualify, skills like "how to dress and how to ask the right questions" were important enough to be issues. The most important thing is to monitor and fine-tune the development process as much as possible.
PR: Is there such a thing as over diagnosis? In the past few years, we have seen an increase in cases of autism. It is said that now one in 80 children have it, as opposed to the old thought that one in 2,000 had it.
MS: No. I believe that the numbers will increase. Due to the disparity of parental education and diversity of culture, the signs that we call "autism" will eventually be even more recognized in society.
PR: Is there anything else you want to tell us?
MS: I could tell you about our interaction with pediatricians. This was found to be very interesting. When we started, we went around with fliers to bring in doctors to our office for CME (Continuing Medical Education) courses in autism. To our dismay, only a few doctors showed up, but not as many as we had hoped. To further lower our expectations, as much as the doctors appreciated our workshops, implementation of changes in procedures at their hospitals were minimal—if any at all. We had hoped that hospitals and clinics would screen for autism and provide early intervention and they were not. Our second attempt was to go to the hospitals and clinics themselves and teach CME courses there. We were successful in getting larger attendance rates, not just by doctors, but by nurses and staff, as well. However, these facilities were still not successfully enacting the changes we wanted. Our third idea was to pick a clinic or hospital and work with them in depth for six months at a time. We worked with Manhattan Physicians Group who tend to a more affluent community, and now we just finished working with Lincoln Hospital, a much different demographic. We are now working with Harlem Hospital and Segundo Ruiz Belvis Clinic. It was interesting to see how difficult these jobs are. These hospitals treat so many people, that it is sometimes impossible to provide the necessary care. Sometimes, a doctor would want to screen a child for autism, but the administrator might forget to provide the paperwork. Electronic medical records are not yet sophisticated enough to incorporate these issues.
PR: What about MOOCs? Are there any online courses that cover your field?
MS: I know people who are involved in it. Amy Weatherby of Florida State University is creating "Autism Navigator," an online platform for parents, physicians, and early intervention professionals. We hope that it will be brought to New York.
PR: I hope that your work will successfully change the landscape of the state of health in these children. Thank you very much. #