Italian American Women Garner Awards

(L-R) Dr. Merryl H. Tisch, Chancellor, NYS Board of Regents & Dr. Christine Cea, NYS Board of Regents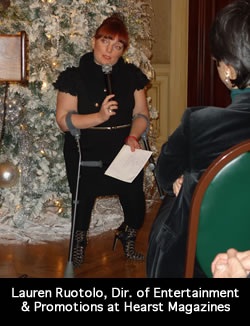 The Greater New York Region of the National Organization of Italian American Women (NOIAW) recently held its annual Epiphany Celebration event at the Columbus Citizens Foundation at 8 East 69th Street, New York City. Each year the organization honors three wise women who have excelled in their chosen fields. This year's honorees are Lauren Ruotolo, Dr. Christine Cea and Anna Fiore.
Lauren Ruotolo is the Director of Entertainment & Promotions at Hearst Magazines and has assisted in the production of specials on MTV, E!'s Style Network and Scripps for Esquire and The Food Network & Good Housekeeping magazines.
Dr. Christine Cea is a researcher at the New York State Institute for Basic Research (IBR) in Developmental Disabilities on Staten Island. She holds the seventeenth seat on the NY State Board of Regents, representing the newly created Thirteenth Judicial District of Staten Island.
Anna Fiore is the Headmistress of La Scuola d'Italia "G. Marconi," the only Italian American school in North America. In 2005, she was appointed as the Educational Director at the Ministry of Foreign Affairs in Rome and Directorate General for Cultural Promotion and Cooperation.
MaryRose Barranco Morris applauded each of the honorees "for having drawn upon their culture and heritage, using their lifelong learning to make a significant difference in the lives of adults and children and those other lives that they will affect locally, nationally and internationally. Their unstoppable dedication exemplifies them as a source of pride and inspiration to the Italian American community." #