The History of Dr. King Comes Alive in Atlanta
Home to CNN headquarters and the Coca Cola Company, Atlanta, Georgia is not new to big names. Although these entities have immense stature, one name resonates deeper than either one. Dr. Martin Luther King Jr. is a man whose legacy as a civil rights leader is inextricable from the very fabric of American history. Dr. King was born in Atlanta on January 15, 1929. In the August of 1963, one hundred years after President Abraham Lincoln had signed the Emancipation Proclamation, Dr. King confronted the American conscience with his famous "I Have a Dream" speech in Washington, D.C. The speech was the powerful climax of the March on Washington for Jobs and Freedom where two hundred thousand demonstrators gathered in the nation's capital to pressure President Kennedy to pass a comprehensive civil rights bill that addressed the grave inequalities experienced by African Americans.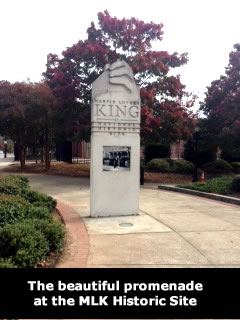 Dr. King spoke of a world that he did not live in, but that he hoped for when he said "I have a dream that one day on the red hills of Georgia, the sons of former slaves and the sons of former slave owners will be able to sit down together at the table of brotherhood." Dr. King's words moved the nation and the injustice could no longer be ignored. Although President Kennedy was assassinated before passing the demanded provisions, President Lyndon B. Johnson followed through the calls for equality in The Civil Rights Act of 1964 and the Voting Rights Act of 1965. Fifty years later, Education Update celebrates the anniversary of Dr. Martin Luther King Jr.'s "I Have a Dream" speech at the March on Washington and goes back to where it all began.
The marvel of Atlanta is the great history it houses. The United States government established the National Martin Luther King, Jr. Historic Site there in 1980 in order to preserve the vital monuments of his life so that visitors could partake in these artifacts of history for years to come. Dr. Pola Rosen, publisher, is someone fortunate to have visited each of these sites personally. The house at 501 Auburn Avenue is the home where Dr. King was born and grew up for the first twelve years of his life. He lived there with his grandparents, parents, and two siblings, Alfred Daniel Williams King and Willie Christine King.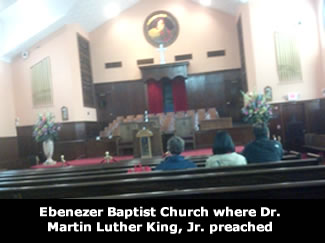 Another momentous site found in Atlanta is Ebenezer Baptist Church. This church's most notable member was Dr. King who was ordained as a minister there at the young age of nineteen. In 1960, he became the church's co-pastor with his father "Daddy" King and remained the pastor until his brutal assassination in 1968. Ebenezer Baptist Church held his funeral as the world mourned the undeniable tragedy.
Outside of the National Martin Luther King Jr. Historic Site is a tribute of remembrance to Dr. King's life as well as following others that exemplified his vision for equality. The International Civil Rights Walk of Fame was created ten years ago and boasts the actual footprint imprints of great leaders of social change including Reverend Al Sharpton, Maya Angelou, and Archbishop Desmond Tutu. #