Teachers College Celebrates 125 Years

(L-R) Dr. James Comer; former NYS Gov. Mario Cuomo; his wife, former NYS First Lady Matilda Cuomo; Laurie M. Tisch; TC Pres. Susan Fuhrman; TC alumna Dr. Ruth Westheimer; Tony Bennett; his wife, Susan Benedetto; Jeffrey Immelt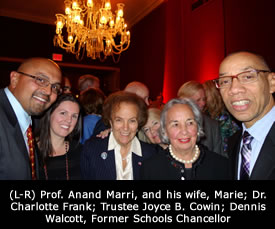 Recently, Teachers College celebrated its 125th anniversary at the famed Apollo Theater in Harlem. The event underscored the creativity of the faculty and students. Honored this year were Dr. James P. Comer, Laurie M. Tisch, Jeffrey Immelt, Susan Benedetto and Tony Bennett for their humanitarian efforts to sustain and advance educational programs. The honorees shared their vision as activists to improve the organizations they lead.
Dr. James Comer is a leader in the organizational transformation of the school systems. For over 40 years, as head of the Yale Child Study Center, he has helped improve the performance of public school students by emphasizing the importance of the interactivity necessary between teacher, student, parent, school, and community. His work has been codified and used in over 600 schools across the country. He is also the associate Dean of The Yale School of Medicine.
Laurie Tisch is a philanthropist and vice Chairwoman of the Board of Trustees at Teachers College. She recently founded The Laurie M. Tisch Center For Food, Education and Policy at Teachers College. Through the Tisch Center, fresh and healthy foods are being made available to more people in more communities. Presented with the difficulties in nutrition that arise from rising healthcare costs, disintegrating communities, and lack of nutritional education, the Center seeks to teach about restructuring this industry for the sake of better health.
Jeffrey Immelt is the CEO and chairman of General Electric, a company that has for a long time been a leader in industry, providing innovative technologies in aviation, power, consumer and business appliances, electronics, and insurance. He is an advisor to President Obama on economics. In his address to the attendees he mentioned how corporate culture has a variety of elements such as problem solvers, teamwork, goals, and education that must all work together to create a successful enterprise.
Susan Benedetto and Tony Bennett are the founders of the Exploring the Arts organization, a non-profit that affords arts education to public schools. The wife-husband duo have been long time supporters of arts education. Mr. Bennett, in addition to being a world famous musical performer, founded the Frank Sinatra School of the Arts in Queens, NY. His wife was a schoolteacher in the arts.
The Apollo is a grand and historical venue; the evening was embellished with great music, great food and unique performances. Teachers College brought these outstanding leaders together to create a vision and culture that fortifies the stance that should be a model for all educational institutions. This gala embodied the spirit of imagination and bright hopes for the future. Tony Bennett performed to the overflowing crowd. In a tribute to millenials, Professor Chris Emdin directed high school students in a rap that was both entertaining and inspiring. The evening ended with all members of the audience dancing on stage including faculty, students, honorees and trustees. We wish Teachers College much success and look forward to many more years of leadership in education. #