STUDENT JOURNALIST
INTERNATIONAL EDUCATION
From Manhattan to the Mountains of Nepal
By Julia Qian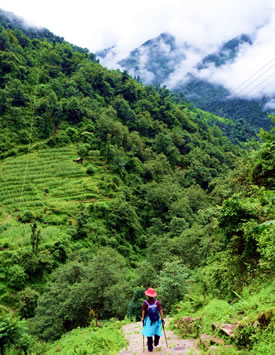 I went on a challenging trek to Annapurna Base Camp located at altitude of 13,500 feet in Nepal during my summer vacation. My trek team hiked an average of eight hours a day for seven days. It was during the rainy season of the Himalaya area, thus we encountered several landslides, downpours, and endured insect bites. Adapting to the trek condition was a struggle. I had to constantly adjust my breath and to coordinate every part of my body. Also, I was highly alert of the environment around me and made sure that every step was deep into the dirt, solid and strong.
I thought I would experience the pride of conquering the nature and the overwhelming satisfaction of reaching my full physical potential when I finished the trek. I was wrong. I was not proud, but humbled. I did not conquer the mountain; instead, I bowed my head and bended my back when I was climbing up. I surrendered to the nature and I became part of the mountain. I did not conquer the height, because I knew it was the moss-coated land that I rooted in lifted me up.
Apart from being humbled, I was rarefied. I thought I learned a lot during one year in Manhattan: how to shake hands properly, how to please others, and how to have a philosophical debate. Those things that I learned were too "heavy" to be carried to that altitude. Thus, I put them down and left all my make-ups behind. With only necessities, I went into the woods. For seven days, I woke up to trek. There was no other desire; there was no other expectation; there was no American dream. I realized that life can actually be simple, and a simple life can actually be happy. I will never forget how that simple counting of my heartbeat for seven days had guided me towards my own soul beat by beat. Although my body was in exhaustion, my soul was free and light.
Henry David Thoreau wrote, "I went to the woods because I wished to live deliberately, to front only the essential facts of life, and see if I could not learn what it had to teach, and not, when I came to die, discover that I had not lived." Now back in New York City, I am still going to "suck out all the marrow of life" as if I never left the woods. #
Julia Qian is a student at Barnard College from China and an intern at Education Update.