CSA Celebrates New Headquarters, Historic Leaders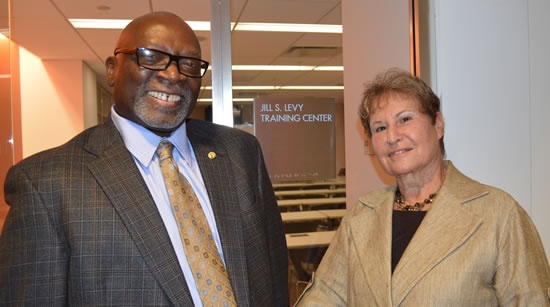 Current CSA President Ernest Logan with Jill Levy, CSA president 2000-2007,
in front of the new Training Center that bears her name.
After 21 years in downtown Brooklyn, the Council of School Supervisors and Administrators (CSA) has moved into new headquarters in lower Manhattan.
President Ernest Logan welcomed approximately 100 guests to a festive reception that marked the dedication of Founders' Hall, a large central meeting room of the new quarters. While buzzing with the energy of the fresh, modern design of the new offices, the organization paid homage to its history. School principals, administrators, education leaders, retired educators and local politicians enjoyed hot hors d'oeuvres and circled the room reminiscing and admiring portraits of former leaders to whom the room was dedicated. A running slideshow of black and white photos also illustrated CSA's heritage and past milestones.
The new space is on the 12th floor of a 32,019-square-foot commercial condominium at 40 Rector Street. "For greater efficiency, we decided to move into a more consolidated space that would accommodate our entire team on a single floor," said Ernest A. Logan, president of CSA.
Logan gave Education Update a special tour of the new digs, walking the sunny corridors and showing off the conference room, the Jill S. Levy Training Center (walking arm-in-arm with Ms. Levy herself) and his new office with its expansive lower-Manhattan view.
"Our regular staff, our Retiree Chapter staff, our Welfare Fund staff and the employees of the Executive Leadership Institute (ELI) will have much easier access to each other," Logan added. It was under Levy's leadership from 2000-2007 that both the ELI — CSA's professional development component — and the Retiree Chapter were established.
The celebration was initially planned for October, but was postponed for several months because of Hurricane Sandy.
The CSA was founded in 1962 to negotiate benefits, working conditions and salaries concerning the administration of New York public schools. Born of collaboration between 11 supervisory associations that recognized they would be stronger when united, the growth and flourishing of the union is attributed to the early visionaries named in Founders' Hall, and those who have followed in their footsteps.
The Council of School Supervisors and Administrators now serves over 6,250 Supervisors, Principals, Assistant Principals, Education Administrators and Directors that work in New York City public schools and city-subsidized Centers for Early Childhood Education. More than 10,000 additional members are retired school or ECE center supervisors and their spouses and domestic partners. It is part of the American Federation of School Administrators and a member of the American Federation of Labor and Congress of Industrial Organizations. #