Phyllis Kossoff Lecture: Helen Clark & Jonathan Fanton Speak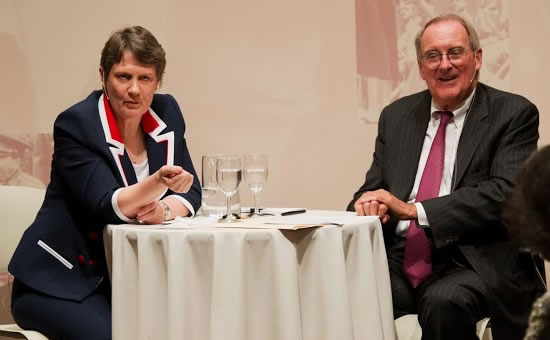 (L-R) Helen Clark with Jonathan Fanton.
CREDIT: Roosevelt House Public Policy Institute, Hunter College
Recently at Roosevelt House, the Public Policy Institute at Hunter College presented the Phyllis Kossoff 2013 lecture featuring Helen Clark, the Head of the United Nations Development Programme and the former Prime Minister of New Zealand in a conversation with Jonathan Fanton, the Interim Director and Visiting Fellow of Roosevelt House.
Fanton explained that Clark's extensive experiences in the political life of her native Australia prepared her well for global responsibility. He quoted Eleanor Roosevelt's words in 1943 in Sydney, Australia when she said, "To help people to help themselves is perhaps the basis for an economic policy which has as a subject freedom from want throughout the world. The future will be safer, and perhaps even more prosperous, if we help people to help themselves."
When asked who her childhood influences were, Clark said that she did not have a role model as a child and that the world felt like a distant place. "I grew up before there was the television. So we didn't really have a personality outside the school and the family," she said. Her role models were her teachers. Clark said that she became interested in politics initially due to the U.N.'s long history.
Fanton asked which of her accomplishments she found to be the most rewarding and the most challenging. Clark responded that it was always easier to think about things when they went well. She was most disappointed with the devastation in Haiti in 2009 and 2010 when it was hit by a series of natural disasters. One of her fondest memories was speaking about Libya, which she recently visited during their elections. About thirty percent of the voters were women and she stated that it was an excellent start.
By the 2015 millennial deadline, specific goals were set involving developing countries. One of these goals is to get every child in school, and that has been quite a success, she said. Eradicating poverty is another goal and conflict can disable achieving such goals. Women and girls are a critical fact in development. Reducing maternal mortality is very important, especially among adolescents. For women to enjoy equality, changes have to be made in laws, policy, regulations, customs, and education. Advocating for a greater understanding of what the issues are and what the answers are, is of supreme importance. We must also provide the results of the proposed solutions, according to Clark. #