Dr. Matthew Goldstein is Honored By CEI-PEA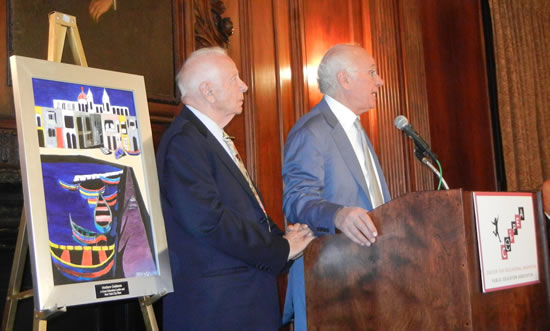 (L-R) Seymour Fliegel & Matthew Goldstein
The Center For Educational Innovation-Public Education Association (CEI-PEA), an activist organization involved in advancing the global school systems, held its awards luncheon recently at The Harvard Club in NYC. As a token of gratitude for the work that he has done, Dr. Matthew Goldstein, former Chancellor of the CUNY schools, was given the Cole Genn Leadership Award this year, for his excellence and creativity in fostering higher education.
Seymour Fliegel, President of the CEI-PEA and longstanding advocate for the education of underprivileged youth, presented the award. Fliegel quoted songwriter Leonard Cohen in praising Goldstein as one who makes "cracks in everything." Goldstein has made many efforts to raise the CUNY school standards in education and intellectual capacity, with hard work and dedication.
Goldstein accepted the award and raised concerns that the university system seems to be facing many challenges. He said that critics are raising their voices in protest of high tuition costs and inefficiency of graduates to competently enter the workforce. He sees that this will end in crisis if it is not dealt with properly. In response to these accusations, Goldstein eloquently articulated that higher education is the best possible investment one can make. He explained that the pay-off for higher education is tremendous and that people should not fear the costs.
Goldstein mentioned how many important figures in business and the military see the shared governance in universities as intentionally setting up roadblocks in the way of getting decisions made. Universities have chancellors, presidents, provosts, board of directors and other senior administrators that seem to never get things done. Goldstein acknowledged that decisions need to be made more nimbly, but this is not going to bring the institution of the university down. He was confident that imperfections like this, and issues of self-interest pursuits in higher education, would be resolved.
Goldstein mentioned that the United States must recognize that it could benefit from loosening restrictions on immigrant students with high-quality skills, who study within its borders. He requested that these students be granted permanent visas.
It was inspiring to hear words of urgency and faith about our current situation in the universities reinforced by the powerful words of a true professional. #