Ann Tisch Ushers in "Stand in Our Shoes": Women Helping Women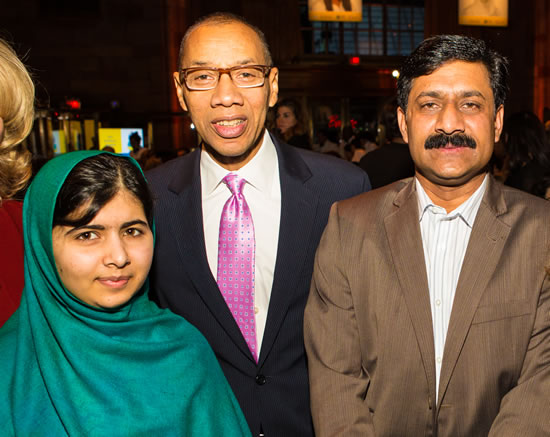 (L-R) Malala, Chancellor Walcott & Malala's father Ziauddun Yousafzai
The Young Women's Leadership Network recently hosted its (Em) Power Breakfast at Ciprani 42nd Street to celebrate the remarkable work that has been done over the past year in support of high quality education for girls. Over six hundred people gathered, including New York City School Chancellor Dennis Walcott and Chancellor of the New York State Board of Regents, Merryl H. Tisch. At the event, the organization recognized the two thousand young women who are attending The Young Women's Leadership Schools and the thirty two million girls across the globe who are unable to access education.
"Stand in Our Shoes" was the theme of the event as acknowledgement of the difficulties these young women face everyday in order to receive the education of the Young Women's Leadership Schools. The Young Women's Leadership Schools provide privately funded secondary public education to girls of all academic abilities who come from predominately low-income families and will be the first member of their family to attend college. These students have their share of hardships but they realize that they are far more fortunate than others across the globe. The theme of "Stand in Our Shoes" has been shipped across the globe to girls who attend a hidden school in Afghanistan. The students at TYWLS send these girls letters of encouragement along with a pair of shoes as a symbol that they are not alone in their fight for access to education.
Tory Burch, CEO of Tory Burch LLC and Founder of the Tory Burch Foundation, Abigail Disney, Filmmaker and Philanthropist, and Jordan Roth, President of Jujamcyn Theaters were honored for their work and generosity as leaders in the efforts to make quality education accessible to all young women. Malala Yousafzai was also honored. Malala Yousafzai, is a young woman from Pakistan who the Taliban attempted to assassinate because of her activism for women's right to education. After girls had been banned from going to school, Malala continued to attend and was shot as she was returning home from school. After the attack, she was moved to England where she recovered from her injuries. Her story and drive have made her one of the most influential activists for girls' right to education and has earned her a nomination for the 2013 Nobel Peace Prize. She is the youngest Nobel Peace Prize nominee in history.
In her opening remarks, Ann Rubenstein Tisch, President of The Young Women's Leadership Network who founded the organization in 1996, stated that, "Education is the great equalizer." Regardless of where people come from, the desire for a quality education makes us all the same. The work that has been done under Tisch's leadership to see this desire achieved for so many young women across the city and country is a feat remarkable all in its own.#