Stuyvesant Varsity Footballers Win Again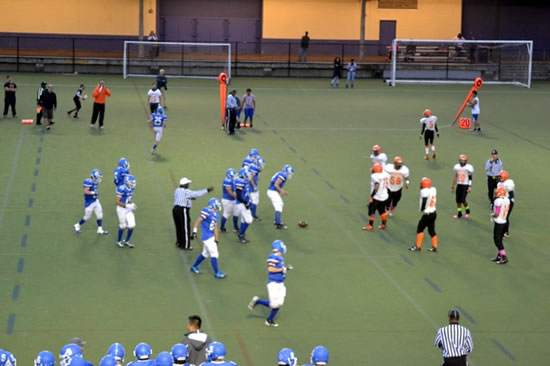 Stuyvesant H.S. has been ranked the top public high school the NYPost claimed, and was the "most coveted, specialized school, a perennial top performer whose brainy students shine in the Intel Science Talent Search, as well as writing contests as many move on the Ivy League."
The Peg Legs, the nickname for the football team, are doing just fine and opening some eyes along the way. They won their fourth straight game, a 30-8 decision over Bryant H.S. Mark Strasser, head coach of Stuyvesant said, "We took one more step getting better as a team." Last year, they finished deep in the Public School Athletic League playoffs. This year, they want to be champs.
Cooper Weaver, according to Coach Strasser, is the "heart and soul" of the team. Weaver ran up and just exuded excitement and joy at playing on a sunny, early fall day. Stuyvesant has six coaches on the sidelines, reminding the boys to make their plays and to watch the snap count. It is hard to out-coach a Stuyvesant team.
The Peg Legs got on the board first when quarterback Solomon Quinn, hit Mike Mazzeo on a three-yard pass for a touchdown. The extra point was good. And it was 7-0 Stuyvesant. The next time the Peg Legs had the ball they drove and scored on a 2 yard run by Weaver. The extra point was good and it's now 14-0 over Bryant. A few plays later, Bryant halfback John Mihalopoulos found a hole in the defense and scampered 55 yards for a touchdown run. The Bryant fans in attendance finally had something to cheer about. Bryant ran in a two-point conversion and the score was 14-8. The mood had changed on the Stuyvesant sideline; the players woke up and took care of business.
Stuyvesant kicked a field goal for 32 yards and now had a 17-8 lead. The Bryant special teams busted out a long run for a touchdown that was negated by a clipping penalty.
After the game, coach Strasser noted there were no major injuries on the team. "That's the first goal," he noted.
Weaver, the workhorse, scored on a 5 yard run to end the scoring, 30-8, Stuyvesant.
Solomon was asked about how he handles his schoolwork as he begins his senior year. "You do what you have to do." Quinn said he was glad to be undefeated—but the team's goal is to win the city championship. They might just get there.#