National Grid & The Brooklyn Nets Award Sterling School 'B' Green Initiative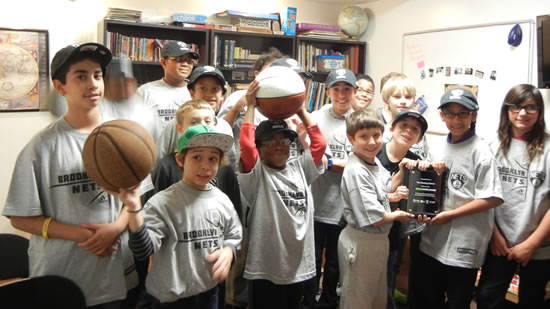 Sterling School students joyful with new hats and basketballs
The Sterling School, which specializes in teaching elementary school children with language-based learning disabilities, was the subject of high fanfare as they won the 'B' Green Challenge Award this October. The students, teachers, and administrators were given this new prize for efforts in upgrading their building with cutting edge green technology and materials and for community involvement in environmental initiatives. The 'B' Green Challenge is an award given by National Grid in partnership with the Brooklyn Nets to local Brooklyn businesses who exemplify awareness of environmental issues.
The Sterling School was founded in 1999 by Ruth Arberman, a reading expert with 35 years of experience. As a teacher, she saw a need for a better availability of primary education for children with language-based learning disabilities. She formed the school with the guidance of the latest clinical research in language-based learning disabilities.
Kyle Costello, of National Grid commended the school for its own installation of green utilities. The Nest, a "smart" thermostat was installed in the building. This device lets one monitor the energy usage remotely, via a smartphone. Ms. Arberman said about the Nest, "it learns your patterns so if you use more energy on Tuesdays, it will suggest something related." Mr. Costello also gave credit to the Sterling School for having an electric audit; replacing all bulbs for energy efficient ones that last for two years. Also praised were the school's new bamboo plank floors. Using bamboo reduces energy that would have been involved in cleaning the floors had there been carpeting.
The Sterling School has patient and understanding teachers who effectively respond to student questions and guide them with realistic situations to better their sensitivities. The issue of environmental awareness was taken with a high level of seriousness at the school. The school caught the bug to creatively analyze waste and use it in positive ways. For example, they used orange juice cartons for art projects and empty pickle jars for planting small vegetation. After doing hours of street cleaning, students found that most people in their area litter water bottles and cigarettes. These findings sparked conversations about the dangers of cigarette smoking and the benefits of recycling. They had the opportunity to meet with city councilman Steve Levin and talked to him about the possibility of taking the rule of the 5 cents refund given for soda bottles and extending it to include water bottles. Their efforts were rewarded with more garbage cans outside their school so that people would litter less. The school also obtained DB meters to test decibel levels that were reached in their lunchroom as well as at local restaurants.
As a token of gratitude, representatives of the Brooklyn Nets distributed caps and tee shirts as well as a team signed basketball. National grid representatives included Mr. Costello, Karen Young, and a team of PR professionals from the organization "Scout". Also there was Eva Hoffman, spokeswoman for the Brooklyn Nets.
Principal Arberman said it best that in regards to these hands-on learning projects, "these skills translate to reading skills (and) writing skills." Her point is that teaching practical problems and solutions with real life situations enables teachers to instill values even in children with learning disabilities to the point that the phonetic weaknesses these students face are challenged by the student will to articulate and understand these situations.#