Child Mind Institute Scientist Awards at The Roosevelt House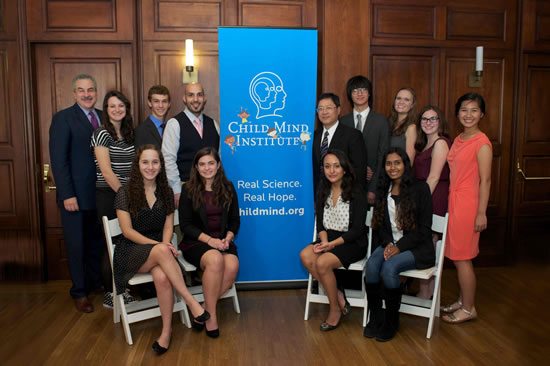 Back Row (L-R) standing: Dr. Harold Koplewicz, president, Child Mind Institute, Emily Garner, Columbia Grammar and Preparatory School, Matthew Cavallaro, Bay Ridge Preparatory School, Dr. Michael Michaelides, PhD, Postdoctoral Fellow, Mt. Sinai School of Medicine, Gene-Jack Wang, MD, Professor of Radiology, State University of New York at Stony Brook, Dante Natarelli, Robert Louis Stevenson School , Hopewell Rogers, Marymount School of New York, Alexandra Brown-Weissman, The Hewitt School, Cristina Lai, Great Neck South High School. From (L-R) front row seated: Leighton Braunstein, the Dalton School, Sarah Crawford, Notre Dame Academy, Sara Ragi, Dwight-Englewood School, Jill Shah, Riverdale Country School. Photo Credit: Ann Billingsley Photography
History and science joined hands as historic Roosevelt House at Hunter College hosted the Child Mind Institute's Third Annual On the Shoulders of Giants scientific symposium and award ceremony. Founders Dr. Harold Koplewicz and Brooke Garber Neidich expressed their organization's dedication to researching and improving mental health care for children.
Dr. Nora Volkow, MD, Director at the National Institute of Drug Abuse, was honored with the 2013 Distinguished Scientist Award. Due to a circumstance beyond her control, Dr. Volkow was unable to fly from Washington, D.C. to personally attend the event. As a true innovator and fast-thinker, she recorded her acceptance speech and hour-long presentation and it was streamed via satellite. Dr. Volkow demonstrated the effects that drugs can have on addict's brain and behavior, based on brain scans, extensive research and experiments. Her protege, Dr. Gene-Jack Wang, MD, was in attendance and gave a dynamic presentation illustrating how morbidly obese adults have similar reactions in their brains to those who are addicted to drugs. Then, postdoctoral fellow, Michael Michaelides, PhD, offered his take on the reaction of addiction to those who are obese.
The event also congratulated 10 graduating high school seniors from various schools in the New York tri-state area, as they were recognized for receiving The Second Annual Rising Scientist Awards earlier in the day. Each winner was nominated by a department of science head or by a member of the science faculty for the student's commitment and achievement in the field of science.
Jennifer Raab, president of Hunter College since 2001, kicked off the event with the humorous story of how the building came to be, before Hunter purchased the building in the 1940s. In 1905, Sara Delano Roosevelt, a strong-willed and over-protective mother, had the house built for her only son, Franklin and his new wife, so that they could be near her. That son was none other than Franklin Roosevelt and his wife Eleanor, who later became the President of the United States and the First Lady. The celebration of science discovery at The Roosevelt seemed fitting, as President Roosevelt was diagnosed with polio.#
For more information, visit: childmind.org/science and www.roosevelthouse.hunter.cuny.edu