Experiencing Museums in New York As A VIP (Visually Impaired Person)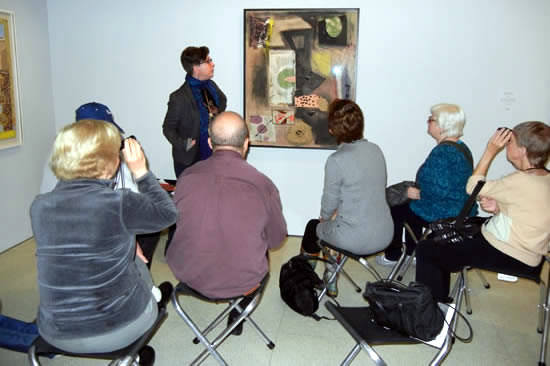 Guggenheim Visually Impaired Program
Museums are a wonderful place to be—interesting, diverse, educational, mindboggling, fun, and there is always a lot to see! For a visually impaired or blind person, this is exactly the area where museum visits become troublesome. The inability to visually comprehend the artwork or the exhibited specimen makes it hard for them to enjoy a visit to the museum.
I am legally blind myself and together with many of my fellow visually impaired or blind friends I am extremely happy that many of the museums in New York City offer special programs for us and all of them are free of charge.
Through these programs, a docent and staff member lead a group to an exhibition or current installation of the museum. Wheelchairs, listening devices, chairs and many helping hands are provided so that every member of the group can feel comfortable and relaxed on the tour.
The docent then provides a vivid verbal description of the work, pointing out the size, location, material, colors, technique and, of course, the artist. Through these descriptions, a painting that may have been just a blurred picture of different colors at first then actually comes to life and becomes meaningful.
The well-trained and experienced docents engage all participants and ask for their impressions, emotions and opinions. This sometimes leads to very intense and lively discussions. On some occasions we also have the opportunity to touch some of the sculptures with gloves–this is a very special treat and very highly-valued by the group. At other times the docents have prepared samples or models of certain works and different materials so that the techniques used by the artist become palpable and consequently deepens our understanding. Art-making workshops are offered as well—here, we can experiment with different materials and media—it's always a lot of fun and very inspiring. The educators are art historians and they undergo a special training to learn the verbal description technique to be able to make the artwork come alive in our mind's eyes.
Some of the museums also launched their own apps for the iPhone and iPad. The MoMA and the Guggenheim Museum have these apps, making their collections and current exhibitions available, giving information, providing pictures of the artwork and an audio guide. For me these programs and the apps are the only possible way to fully experience and enjoy a visit to a museum on my own without having to bring a companion to explain and read the labels (and numbers for the audio guide which are often too small for me to read). This accessibility has enriched my life tremendously and the dates of these tours have a high priority on my calendar.#
Ulli Kotanko is a physician living in New York City.