Robert Motherwell at the Guggenheim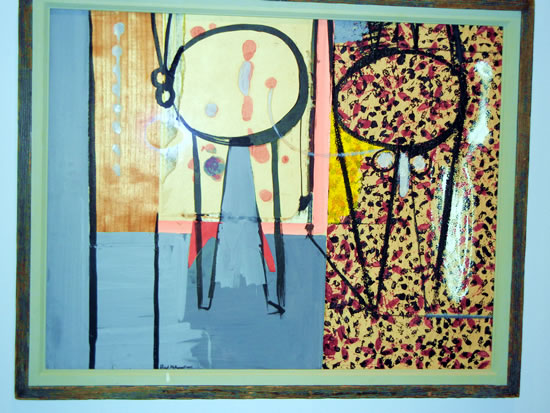 Pancho Villa, Dead and Alive (1943)
Although generally associated with Abstract Expressionism and his elegant black and white paintings "Elegy to the Spanish Republic," artist Robert Motherwell (1915-91) devoted the first decade of his career to making collages. In an important exhibit at the Solomon R. Guggenheim Museum, "Robert Motherwell: Early Collages," these seminal works (1941-51) bursting with vitality, freedom, and creativity are an exciting revelation. Some collages are somber, a response to a turbulent period of world war, revolution, violence, and death; they reflect the political and humanist sensibilities of the young artist. Others shout out with bright colors, scattered words, and stylistic references to major artists of the day. The muted colors of several works reflect natural changes caused by exposure to light and are a lovely complement to the more vivid pieces. To Motherwell, collage was "the greatest of our art discoveries."
Motherwell was an intellectual and art theorist. He studied philosophy at Stanford and Harvard, and then, in 1940, at Columbia University where his drawings caught the attention of legendary art historian and teacher Meyer Shapiro. Recognizing natural talent, Shapiro encouraged Motherwell's artistic pursuits and opened doors, introducing his student to major emigre artists who had fled war-torn Europe for New York City. Motherwell also caught the attention of influential art dealer and collector Peggy Guggenheim who encouraged his experimentation with collage and invited him to contribute to an exhibit introducing the medium (already practiced in Europe) to New York City. She saw her 57th St. Gallery as "a research laboratory for new ideas." Also pivotal to Motherwell's career was a trip to Mexico in 1941 with Chilean-born Surrealist painter, mentor, and friend Roberto Matta. In Mexico, he saw improvisation in art and the vibrant colors--reds, greens, blues, purples--that would become permanent influences.
Motherwell expanded beyond the traditional European methods of collage. Guggenheim senior curator Susan Davidson explains his collages are "more painterly." He used all kinds of paper (construction, Japanese, tissue, drawing, Kraft, colored, decorative, wrapping, news), glues, oils, charcoal, wood veneers, sand, ink, and fabric. He incorporated contemporary printed matter including military training maps and resistance slogans (reflecting the ever-present specter of war) and ranged in style from somewhat figurative to purely abstract.
The Guggenheim show is the first to focus solely on Motherwell's collages. It will be at the museum until January 6.#
Sybil Maimin is a senior writer for Education Update and is a working artist and sculptor, trained at Columbia University.