First Museum in Nation To Confer University Degrees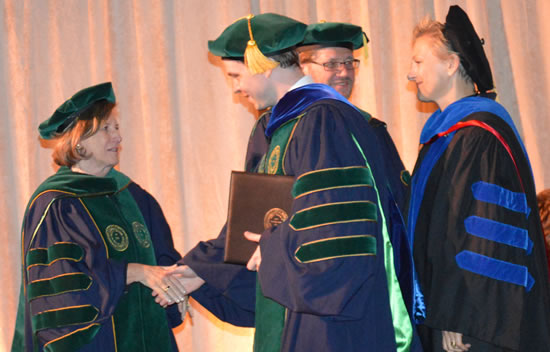 Ellen Futter, President, AMNH congratulates doctoral graduate
Under the awe-inspiring gigantic blue whale in the Milstein Family Auditorium of the American Museum of Natural History, a distinguished group of educators, students, family members, faculty along with the illustrious New York State Commissioner of Education, Dr. John King and Chair of the New York State Board of Regents Dr. Merryl Tisch, assembled for the inaugural commencement of the Richard Gilder Graduate School. The Museum was celebrating the conferring of PhD degrees on seven doctoral candidates for research in biology, as well as twenty master's degrees in teaching. An honorary degree was given to Dame Alison F. Richard, for her lifetime of leadership in the sciences and excellence in research at Yale University. She played a seminal role as the first female vice-chancellor of the University of Cambridge. Her work in expanding the understanding of the evolution of complex social systems among primates, with a specialization in studying the socio-ecology of lemurs in Madagascar, has given her much acclaim in scientific circles. Presenting the degrees were Ellen Futter, President of the American Museum of Natural History, and Michael Novachek, Senior Vice President and Provost of the Richard Gilder Graduate School.
Although the museum has been a hub for learning since its opening in 1869, the graduate school only opened its doors five years ago, thanks to a generous gift from Richard Gilder. Merryl Tisch, and John D. King were also instrumental figures in the establishment of the school. The four-year program, with classes and laboratories housed in the museum itself, has a total of fifty faculty and administrative staff.
In her address, Dame Richard explained that in the eighteenth and nineteenth centuries, people collected a lot of things and stored them in so-called "cabinets of curiosities" or museums, as we call them today. In the twentieth century, people wanted to know more about all this collected "stuff." As technology became more advanced in the late twentieth century, new methods of research and analysis opened doors to understanding the essence of these collections. Dame Richard praised the Richard Gilder Graduate School, as a leader at the forefront of this effort for analysis and understanding.
Examples of some of the graduate work that was completed for doctoral candidacy include the study of leeches, paleontology, and the history of chloroplasts. Dr. Ellen Futter commended the students as "an intrepid group of biological explorers." She recognized the school as one where the classes are not always conducted in classrooms, but close to the millions of specimens and artifacts that the museum houses. This unique feature enables the school to become a leader in education reform. She described the formation of the school as a "Darwinist hybrid" that melds the traditional classroom setting with first hand exposure and research opportunities to create a one of kind educational experience.
The graduates were comprised of a very diverse pool including students from New York, Florida, North Carolina, Idaho, France, United Kingdom, and Sweden. The Juilliard School's brass quintet filled the hall with the music of Handel. #