Town Hall & PS 307, Bronx Form Inspiring Partnership in the Arts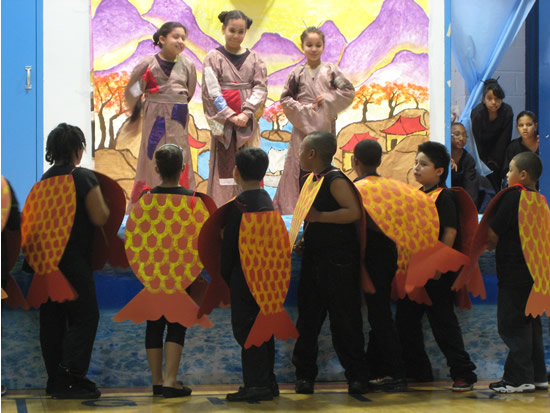 What a wonderful surprise awaited Education Update recently at PS 307 in the Bronx! Third graders performed two complete versions of Cinderella, one Chinese, and the other Mexican, complete with native costumes, music and dancing to the overflow crowd of parents and faculty. What thunderous applause these students justly earned from the audience. Launched under the inspiring leadership of Marvin Leffler, president emeritus of Town Hall and Yolanda Valez, principal of PS 307, students are learning language, movement, stagecraft, dance and visual arts. Students create murals and paintings for the plays and study guides are prepared to interweave their performances with social studies and English classes. PS 307 primarily consists of minorities who are economically disadvantaged and limited English-proficient; their literacy is being boosted by this program, in addition to serving as a gateway to the understanding of world cultures.
Town Hall sends visual arts teaching artists to conduct clubs and workshops, and has provided a thousand people with art programs in this school. An additional partner has been Councilman Fernando Cabrera's office that has provided a CASA (Cultural After School Adventures) grant. The program at PS 307 is one of 32 educational outreach programs at schools throughout the city that are conducted by Town Hall.
When Education Update asked Principal Yolanda Valez what the children learned besides the music, the performing and the dance, her response was "They learn everything: the culture, their foods, customs and clothing of that specific country."
Chair of the Town Hall Arts in Education Committee and Senior Advisor at McGraw-Hill Education Dr. Charlotte Frank, who visited with Education Update, wisely observed to Valez: "You have built a culture in this place, you and your former principal and the teachers, a culture of involvement. That's why you get more parents involved, because they feel that they're part of it."
Education Update asked Alfredo Melendez, resident artist at PS 307, who comes from Town Hall to teach ballroom dancing to describe the greatest thing that the kids get out of dancing: "It's exposure more than anything else, because these days, exposure to the arts is extremely limited unless there is someone in the household that's exposing them to the arts or if they're in a school that gives them artistic exposure. It gives kids insight into a world far bigger than what they see on TV, that they may not see at any other point in their lives. It's much more about letting them know that this exists and that it's possible for them to enjoy it. Partner dancing gives them an opportunity to practice what I'm preaching to them, about how to treat one another respectfully and themselves, because if they're behaving themselves properly and they are treating their partners and their classmates respectfully, they're going to get respect back. Eventually it starts to carry over outside of the classroom."#
For more information on Town Hall's education outreach programs, visit www.thetownhallnyc.org