COVER STORY
President Jimmy Carter Rebuilds Society with Habitat for Humanity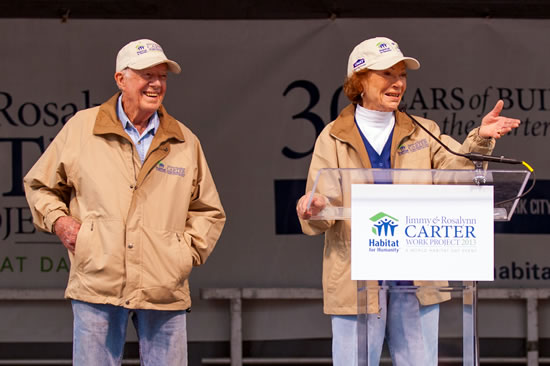 President Jimmy Carter and his wife, Rosalynn. Photo credit: Anthony Collin
Nearly three decades after Former President Carter and First Lady Rosalynn helped rebuild a derelict apartment building in New York's Lower East Side with Habitat for Humanity, the couple returned to the same spot for their annual celebration.
"It's always emotional to see what these homes have meant to the families," Mrs. Carter said. As part of the Jimmy & Rosalynn Carter Work Project, the Carters have dedicated a full week every year for the past 30 years to help rebuild affordable homes in Oakland and San Jose, California, Denver, Colorado; Union Beach, New Jersey; and New York City—where it all began in 1984.
The Lower East Side was once plagued by crime and drugs in the 1980s, but has since reinvented itself into one of the most high-priced housing markets in the world. Twelve of the original homeowners have continued to live in the renovated Mascot Flats building, which was first constructed in 1902. The Carters actively participated in the rebuilding of that six-story building on East Sixth Street. With the benefit of donated land, material, labor and resources, many of the tenants pay a monthly mortgage of about $350, as part of the Humanity program. The property value of the neighborhood has not dipped, in fact, one of the adjacent buildings sold for almost $2 million recently.
"For many people, the Carters are the faces of Habitat for Humanity," Jonathan Reckford, CEO of Habitat for Humanity International said. "This is the eighth year that I've had the privilege of working alongside them, and I'm amazed and humbled by their efforts."
Habitat New York City has built or renovated 1,000 homes and apartments in the city's five boroughs since the Mascot Flats project, Neil Hetherington, CEO of Habitat NYC said.
In one of the most high-priced housing markets in the world, the residents of Mascot Flats have managed to keep their building an affordable place to live in for three decades. This year, the Carters focused on rebuilding homes in Queens and Staten Island, which were severely hit by Hurricane Sandy in 2012.
The Habitat project started in 1976, in the Carter's home state of Georgia. The Habitat homeowners are chosen without regard to race, color, gender, national origin or disability. Their website states that "Habitat also welcomes volunteers from all faiths, or no faith, who actively embrace Habitat's goal of eliminating poverty housing from the world."
The couple's work with the Habitat project was documented in the published book, Everything to Gain: Making the Most of the Rest of Your Life, which was co-written by the Carters (Random House, 1987).
Among the hundreds of attendees paying homage to President and Mrs. Carter was the Banta Law Firm from Atlanta, Georgia with Robert Banta at the helm. Mr. Banta is the founder and managing Partner and Atlanta's largest law firm devoted to immigration practice and a believer in the value of helping others reconstruct their lives. Banta was one of the supporters of this great event.#