WOMEN SHAPING HISTORY 2013
Dr. Rainu Kaushal: Director, Health Informatics Master of Science at Weill Cornell Medical College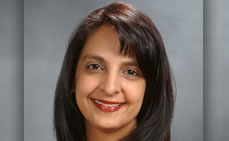 Inspiration for career path:
I have wanted to be a physician and a scientist since I was a young child. As young as age 3, I would run around with a stethoscope around my neck and loved the board game Operation. I asked so many questions as a child that my father gave me the nickname, "Madame Curie." Having a career in health policy has allowed me to combine my love of medicine with scientific inquiry.
Challenges and resolutions:
I entered medical school with the expectation that I would become a practicing clinician. However, I rapidly realized that as much as I enjoyed direct interactions with patients, I preferred influencing the quality, safety, and efficiency of care for larger populations. Reconciling my a priori vision of a physician as a clinician with my interest in science took time. Meeting other physician-scientists in health services research and health policy helped greatly.
Proudest accomplishments:
I have particularly enjoyed building a great team of faculty members and establishing the Center for Healthcare Informatics and Policy at Weill Cornell Medical College. Our group has helped to establish the field of healthcare informatics as an important area of scientific inquiry and has contributed to the knowledge base of health information technology enabled health care transformation. We have also made fundamental contributions to the fields of patient safety and quality. At our Center, we are particularly interested in training the next generation of health informatics and health services professionals and scientists.
Influential mentors:
Personally, my mom has been the most significant mentor in my life. She has taught me the importance of hard work, kindness, and fairness. She has inspired me with her fortitude despite the challenges she faced as a young widow with three children. She enabled my two brothers and me to be educated as physician-scientists at some of the most wonderful institutions in the country.
Professionally, Dr. David Bates at Brigham and Women's Hospital and Harvard Medical School has been my most influential mentor. He taught me how to be a scientist as well as how to lead and hopefully inspire a group of researchers.
Turning points:
Having the opportunity to attend Harvard Medical School was a turning point in my life. I suddenly found myself surrounded by people who were brilliant and excited by medicine. I loved every aspect of medical school: my wonderful classmates, my outstanding teachers, and the opportunity to dive deep into the field of medicine.
Future goals:
Health care in the U.S. is at crisis. Costs of care are escalating and the quality of care that we provide needs to be improved. Creating solutions will be challenging and require innovative, collaborative new approaches. I would like to help create some of those solutions for our health care delivery system. #