Ike Reconsidered at Hunter College Symposium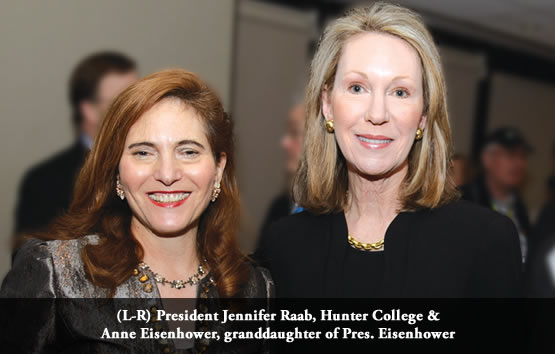 The Roosevelt House Policy Institute at Hunter College recently held a conference called "Ike Reconsidered: Lessons from The Eisenhower Legacy for the 21st Century". The project, organized in collaboration with the Eisenhower Foundation, not only focused on the current policy implications, but also on the lessons that we can learn from the Eisenhower legacy for the future. Many of the speakers agreed that "Ike" was a good politician, a big strategist and one of the best presidents that the United States has ever had.
David Eisenhower and his sister Anne, Eisenhower's grandchildren, have been keeping the image of "Ike" alive. "Speaking about him means to reconsider the 50s," said David Eisenhower, who is also the son-in-law of Richard Nixon. In a subsequent phone interview with former Columbia University president Michael Sovern, who attended the event, "Foundations such as the Eisenhower Foundation create a support for research and American history. The important thing is to ensure that the work being done is independent of the specific interests of the board. For example, the Kennedy family just created the Edward Kennedy Prize at Columbia for the best work in theater advancing the understanding of American history." Sovern, currently the director of Atlantic Philanthropies, added that, "Whenever resources are deployed in the aid of history I'm a happy man."
President Jennifer Raab presided eloquently at the dinner gala, held after the panels. Among the attendees were Evan Thomas, author of "Ike's Bluff: President Eisenhower's Secret Battle to Save the World", and Jim Newton, journalist and author of "Eisenhower: The White House Years", Jean Edward Smith from Columbia University, Rita Hauser, President of The Hauser Foundation, Philip Zelikov from University of Virginia, and Stephen Hess, Eisenhower's White House Staff.
According to Thomas, Eisenhower's reputation is still like a puzzle; he is still regarded by many Americans as a genius, a nice man and a war hero. Moreover, during the event, he described the former president of the United States as a person with extraordinary patience, intuition and political skill, changed by his experiences in WWII, to become a deeper and more spiritual person.
He was portrayed as a politician that people love. It is extremely important, as all the speakers reminded us, that people need to like their leaders, their president. He also deserves to be remembered because of the ensuing prosperity and peace: he ended the Korean War, he signed significant civil rights legislation in 1957 and in 1960, and his presidency became synonymous with economic growth. He was a person that was regarded by the public with a deep trust. #