Women Shaping History 2013
Kate Hathaway: Broadway Producer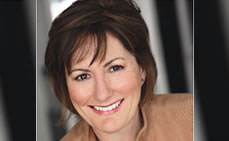 What has inspired your current career path?
While I loved my time as an actor, most recently in Steel Magnolias with Karen Ziemba, I felt that I wanted to get involved in theater in a broader way – to bring new projects to the stage. The best way to do that is to become a producer.
What are some of the greatest challenges you've faced?
First, while I had the desire to become a producer, I had to learn how to go about it. Fortunately, I was introduced to the Commercial Theater Institute, which each year has a 16-week program to educate people who are in exactly the position I was. I learned a lot from them. Second, there is the interesting task of raising money. To produce, you have to identify persons who are qualified to invest, and then you have to ask them for money. I was uncomfortable at first asking people I know, as well as strangers, for an investment. I got over that by doing it, and my comfort zone expanded as I did it. Now, if I THINK you might be a qualified investor, watch out — I'm reaching for your wallet. For a good cause, of course, and I hope to get your money back, and then some.
What are some of the accomplishments you are most proud of?
On ANN, the Ann Richards play coming to Broadway at Lincoln Center, my objective was to raise enough money to become an associate producer. I exceeded that target, so that now I am at the co-producer level, which is very exciting for me. I love participating in the producer meetings and sharing observations.
Apart from my involvement with ANN, I am proud to be in a 32-year marriage, and having raised three wonderful children.
Who have been the most influential mentors in your life?
I had a wonderful voice teacher in high school, Sister Mary Donald, of the teaching order, the Sisters of Saint Joseph. She set and kept the performing bar pretty high for me. I also had a wonderful college professor, Dan Rodden, who ran a short-lived theater program at my college. He taught us what professional production values were, and so I always had the highest standards to look to. Most recently, Harriet Leve Newman has taken me under her wing to show me around the world of producing on Broadway. She introduced me to ANN. Harriet is teaching me so much, and she is very generous with her time — and she is patient, which for me, where I am right now, is important.
What would you describe as a turning point in your life?
I cannot really say that there was a turning point. As I look back at the path I have travelled, it seems pretty straight to me. I started acting professionally when I was six years old. As an adult, I acted in national tours, in regional theaters, and Off-Broadway. I put it all aside for a long time as I raised my children, and then one of them became an actress herself. She kept me pretty busy when she was starting out. She quickly became established, and I was able to help her select her professional team (manager, agent, business manager, etc.). As she went off on her own, with a solid team supporting her, and my youngest graduated from college, I went back to acting, and then moved over to producing.
What are your goals for the future?
Right now, my goal is to soak up like a sponge all I can from this wonderful experience with ANN. And then get involved with new projects for the stage. I am happily pursuing my passion for theater, and I am in a position to make choices about what I want to get involved with in the future. I am looking at projects now. Ultimately, I would like to be a lead producer on Broadway. #
Kate Hathaway's stage name is Kate McCauley. Her daughter is Oscar award-winner Anne Hathaway.