Women Shaping History 2013
Ellen Futter: President, American Museum of Natural History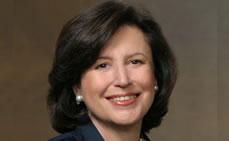 What has inspired your current career path?
A combination of good fortune, passion for the extraordinary places I have been privileged to serve, and the great people in my life.
What are some of the greatest challenges you've faced?
I went from being an associate at a law firm to becoming Acting President of Barnard College when I was just shy of my 30th birthday. I am an alumna of the College, and I had been on the Barnard Board for about a decade, initially as a student trustee, and therefore knew the College and its issues very well, but I still had an enormous "on the job" learning curve in terms of both the inner workings of the College and management generally.
Another challenge that stands out is the creation of the Rose Center for Earth and Space at the American Museum of Natural History. This was an intensely interdisciplinary and sensitive project. We worked with scientists, educators, and exhibition designers, as well as with Board Members and donors, architects, engineers, the City, the community, and NASA, among others, to transform a beloved, historic institution— the Hayden Planetarium—into a 21st-century center for science and education. At the same time, we were also creating a new research department in astrophysics on par with the Museum's other outstanding scientific divisions. In the end, cutting-edge designs by architect Jim Polshek and exhibit designer Ralph Appelbaum and compelling science and education from Museum experts provided an iconic space for presenting the most up-to-date science, and the new Hayden Planetarium offered an immersive and scientifically accurate experience like no other.
What are some of the accomplishments you are most proud of?
What are some of the accomplishments you are most proud of?
Working with our Board and an outstanding team of colleagues to reinvigorate a beloved, historic institution and transform it into a Museum for the 21st century, not only as a pre-eminent scientific enterprise, which it had long been, but also one with highly topical and inspiring exhibitions and vibrant educational offerings. Each year, the Museum welcomes and engages millions of visitors onsite and online.
A central component of this new vision of the Museum is an acute understanding of the Museum's role in society – training the next generation of scientists, teachers, and citizens. This is perhaps most visible in the updated expression of our educational mission through the creation of the Richard Gilder Graduate School, which built on our longstanding relationships with universities and our role in mentoring and teaching graduate students. The creation of the Gilder Graduate School made us the only museum in the Western Hemisphere to grant the Ph.D. In this same vein, more recently we launched a pilot for a master's degree in science teaching—also the only program of its kind at a museum in the United States. The Museum also offers extensive teacher professional development programs both onsite and online and has spearheaded the creation of Urban Advantage, a middle school science program that has had a tremendous impact on tens of thousands of students and teachers. All in, some 4,000 teachers each year participate in professional development courses and programs at the Museum.
Who have been the most influential mentors in your life?
Several family members influenced me profoundly, starting with my maternal grandmother, who was a school principal for 30 years and offered a magnificent early model of how a woman could be a professional, lead, and still be an active, devoted, and loving family member. My father provided an example of someone who had a very full professional life as an attorney as well as a robust set of extracurricular activities to which he was incredibly devoted. He too was deeply committed to family and always stressed through example the importance of conducting life with the utmost integrity.
In a completely different way, playing sports deeply informed my sense of working with a team, motivating others, "hanging-in" in difficult moments, and being competitive.
What would you describe as a turning point in your life?
Attending Barnard and subsequently returning there as its president. As many alumnae before me have said, "Barnard changed my life" – not only offering me an extraordinary opportunity at a very young age, but empowering me with both the capacity and the courage to do it.
What are your goals for the future?
To continue to be challenged, to grow personally, and to keep up with – and try to stay a bit ahead of— the curve in this constantly evolving, increasingly complex and hi-tech world.#