Women Shaping History 2013
Dr. Christina Paxson: President, Brown University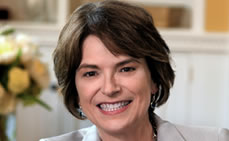 What has inspired your current career path?
Like many people, I drew inspiration from my family members. My grandfather was an agronomy professor at the University of Tennessee, who did research on soil quality, soybeans and cowpeas. One of my uncles was an early computer scientist and director of Penn's school of engineering. And, my mother went back to graduate school after having children. This doesn't mean I set out to become a university professor from a young age: that decision came much later. The inspiration my relatives offered was more subtle. Their examples reinforced the value of higher education and research so that, when it came time for me to choose a career path, an academic career seemed natural.
What are some of the greatest challenges you've faced?
Leading a university has many rewarding challenges. There are numerous constituencies — students, faculty, staff and alumni — and, even within these groups, different individuals have distinct and sometimes contrasting motivations and goals. The biggest challenge is to work across groups to forge consensus about the direction the university should take or, in the absence of consensus, to create an understanding of how and why decisions are made. At Brown University, we are in the midst of developing a strategic plan that will guide our growth over the next decade. This has required the engagement and participation of many members of our community, and the development of a responsive communications strategy so that the process is transparent. Although we still have work ahead of us, I am confident that we can develop and implement plans that support our desire for continued academic excellence and build on Brown's innovative approach to education and scholarship in the service of society.
What are some of the accomplishments you are most proud of?
I am proud of the research I have done with my collaborator Anne Case on the effects of early life experiences on educational attainment and earnings in adulthood. One lesson I take from this work is that the ability of young adults to thrive in college hinges on their health and cognitive development at much younger ages — and that, as a society, we ignore early childhood development at our peril. I am also proud of the students I have taught, mentored and who have benefited from programs I helped to create. Nothing makes me happier than to hear from a former student that I made a difference in his or her life.
Who have been the most influential mentors in your life?
My most influential mentors in my adult life have been several marvelous women who are or have been university presidents. Nan Keohane, President Emerita of Wellesley and Duke, has a deep understanding of how to lead an institution effectively and ethically. She has been a source of exceptionally sound advice. Shirley Tilghman has also been a wonderful mentor. I learned so much simply by observing how she approached the Princeton presidency. I admire her brilliance as a scientist and an educator, as well as her down-to-earth and collaborative leadership style.
What would you describe as a turning point in your life?
My career path has had a number of important junctures. When I first went to graduate school in economics, I planned to work for an international organization or business. However, I discovered that I loved the freedom and creativity of research and the joy of teaching students about economics and statistics. So, I changed course and followed an academic career. Over time, I realized that I could have an even larger impact on education and scholarship by growing and leading academic programs. And, I learned that I drew a great deal of satisfaction from the work itself, which involves working with others to set and achieve ambitious goals. In some ways, I have come full circle: 30 years after I entered graduate school, I find myself leading what is essentially an international institution that educates students from all over the world and advances globally relevant knowledge and discovery.
What are your goals for the future?
Brown is distinguished for its commitment to intellectual independence, innovation and the application of research and education to issues of local, national and global significance. In the coming years, my goal is to grow Brown's capacity in education and scholarship by building on those strengths. This means expanding financial aid so that we attract an even more talented, diverse and global student body; fostering faculty excellence; advancing Brown's innovative approach to education to prepare students for the demands of the 21st century; and developing signature academic initiatives that build on Brown's distinctive multidisciplinary culture and commitment to integrating education and scholarship. #