The World of the Sightless: Dr. James Kutsch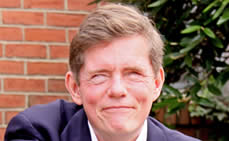 Arguably the grandest epic poem in the history of the English language, "Paradise Lost" (1651), was written when John Milton was blind. But the celestial light emanating from this iconic work only proves the deep truth that Milton expressed two years later in the essay "Second Defence of the People of England"(1653): "It is not so wretched to be blind, as it is not to be capable of enduring blindness." Of course, not just enduring, but triumphing over it, an achievement exemplified by the life and work of Dr. James A. Kutsch Jr., CEO and first blind president of Seeing Eye, Inc., the oldest existing guide dog school in the world, located in Morristown, N.J. His personal and professional accomplishments, not to mention his articulate advocacy in the spirit of Milton, are in their own way epic — heroic and instructive, particularly his motto: don't wait for someone else to solve your problems, be part of the solution.
Blinded toward the end of his junior year in high school by way of a backyard chemistry experiment that went wrong and cost him not only his eyes but right hand, Jim Kutsch rose to the challenge of finding meaning in his life and then campaigning for others with similar disabilities — trying to correct misimpressions about the blind and developing technology to enhance their lives.
Blessed with loving parents and dedicated teachers who read to him and coached him through his senior year of high school, he went on to a rehab center in Pittsburg, Pa., where he learned braille and did a "test drive" with a dog brought in from Seeing Eye. In a way he was primed to believe in the Seeing Eye mission because when he was a kid, before the accident, he and his family enjoyed watching the Sunday night Disney show "Atta Girl Kelly" about a seeing eye German Shepherd. He was also determined to succeed. Like all graduates of Seeing Eye, he kept returning for successor dogs (he has had seven).
He earned a bachelor's degree in psychology, a master's degree in computer science from West Virginia University and a doctorate in computer science from the University of Illinois. He learned to type, took tests orally, listened to books on tape. This was in the "old days" he laughs (he has a great sense of humor), before sophisticated voice technology. His doctoral work included designing the first talking computer for the blind. He feels fortunate that his intellectual drive led him into science and technology, problem-solving fields, and onto a career path that combined experiential and administrative skills. He became vice president of strategic technology in Convergys Labs and went on to be vice president of computing and network services and later chief information officer at AT&T Universal Card Services. He also taught computer science at West Virginia University.
By the mid 1990s, he was on the board of trustees at Seeing Eye and then in 2006, was asked to be its president. Seeing Eye had been and remains "very meaningful" in his life, he says. There was no way he could not, would not, accept the challenge to ensure the continued success of the now 83-year-old organization, figuring out new ways to use technology while continuing to lecture widely across the country on the art — and science — of matching dogs and people, people and technology, and people and people. Mentoring is at the heart of all he does, he says.
Students come to Seeing Eye from all over the country and Canada for a month to work with a trained service dog. Selection is essential since there is no one size fits all. Considerations include temperament (of both dog and person), height and physical surroundings. Some people like to walk fast, or travel — labs are up for that. In college, he needed a "go-go" dog, but at AT&T one that would "sleep under the executive conference table." Urban areas and rural areas each come with their own demands. Many people think of guide dogs as "chauffeurs" — Rover, go to the bank — but it is the owners who must know their environment.
Four breeds of dog are trained at Seeing Eye: German Shepherds (about 30 percent), Golden Retrievers, Labrador Retrievers and, with the assistance of geneticists, crossbreeds of Labs and Goldens. The dogs are first adopted as puppies by families and learn socialization skills, a period that lasts approximately 15 months. A philanthropic organization, Seeing Eye also links with schools by way of a fundraising program, Pennies for Puppies, where kids might get to sponsor or name a dog.
Trained staff then trains the dogs, with staff members going from apprentices to instructors in a three-year period. Applicants must have college degrees and, of course, love animals. They should also be outdoors people because training goes on ten hours a day in all manner of weather. Does it all work? According to exit interviews with graduates and surveys for returning students, Seeing Eye's success rate is phenomenal — 93.4 percent say they are more mobile now with a dog; 83 percent described their overall Seeing Eye experience as excellent (13 percent good). But another mantra also guides Jim Kutsch: "Always pleased, never satisfied."
The public still needs to be educated, he says. People who put on a blindfold for a brief period and then say they can't manage are wrong. Their "five-minutes-of-blindness" experience hardly comes close to what a blind person can indeed do with proper and compassionate instruction, Kutsch explains. There is also the matter of what technology can do. No Braille buttons on the elevator? For a three-story building vertical button alignment will signal the floors, but what if the elevator stops? What floor is it on? Such obstacles, he is determined, can yield to imaginative technological solutions — programming a GPS for the blind pedestrian, for example. And more. Is it surprising to learn that Dr. Kutsch is also an avid sailor and tandem bike rider? #