Education Leaders Joe and Carol Reich Honored by Sy Fliegel and CEI-PEA
By Joan Baum, Ph.D.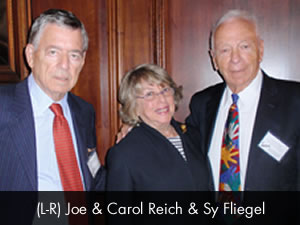 The occasion was a book party luncheon for philanthropists Joe and Carol Reich, the authors of the just-released "Getting to Bartlett Street: Our 25-year Quest to Level the Playing Field in Education" (February Books), but the recent event at The Harvard Club turned out to be a wider and enthusiastic re-dedication by approximately 120 guests of The Center for Educational Innovation-Public Education Association (CEI-PEA) to the underprivileged children of New York City served by charter schools.
No one spoke from notes — there was no need: the mission was known, the passion heartfelt, the commitment unflagging, the cause as compelling as ever, arguably even more so, given uncertainty over the new administration next year — not to mention uncertainty in the economy. That concern for what remains to be done in independent public school reform, along with a celebration of what has already been accomplished, thanks to Carol and Joe Reich, played out as consideration by both speakers and the audience of whether the glass is half empty or half full. Carol Reich saw it as half-empty.
Joe Reich said he was "more of a half-full kind of guy," but both spoke with quiet determination of the need for the "quest" they began in 1992 in New York City to continue. Two years earlier they had founded and funded the Beginning with Children Foundation in Williamsburg, the first charter-like school in the country. This was six years before the state passed its first charter law.
Festivities began with James Merriman, CEO of the New York City Charter School Center, who introduced Seymour Fliegel, President of CEI-PEA and Gilder Senior Fellow, whose focused and witty remarks paid tribute to the Reiches for "raising expectations" about what children of poverty can do in a school when their teachers have the necessary resources and the kids get sustaining support — goals that go far beyond the charter school movement.
He quoted the book's epigraph from Soren Kierkegaard, that "Life is lived forward but understood backward if you are still around to comprehend it." The luncheon celebrated just that, as Fliegel quoted from the last paragraph of Joel Klein's foreword: "Against all odds, and in the face of persistent, unyielding naysayers, these two people led a revolution in education in the largest school district in the country." Klein's last line, as they say, brought down the house: "In the words of my favorite song from the Broadway show A Little Night Music, 'Isn't it Reich?'" (Joe and Carol pronounce their name "Rich.")
Carol Reich then spoke, modesty not referencing her CUNY Ph.D. in Developmental Psychology or her extensive work in early childhood education or her service on numerous boards, though she drew on her record as co-sponsor with Joe of the "I Have a Dream Foundation" class of 62 Brooklyn children. She stressed continuing needs —especially space issues, the growing waiting lists of children, and she noted the importance of sharing district best practices and having a sturdier "three-legged stool" so that schools of education and boards of education and publishers could wage not only a philosophical battle but a cognitive one.
She also wondered why there were too few special-ed kids in charter schools. Her somber remarks were especially noteworthy for their directness: teachers are being demonized, little kids "who don't have a voice" come to school hungry, those who are served need to be followed in the higher grades. Her husband extended these remarks, pointing out that "parents, not just children, need mentoring."
Joe Reich, who, with his wife founded the New York Charter School Center and was its chair through December 2007, has an impressive background in investment management, but he said Sy Fliegel changed his life. Both Reiches are well aware of the perils of bureaucracy — tensions between charter organizations and individual charter schools, and partisan politics.
But Joe Reich, keeping with his theme of half full, pointed out the dramatic growth in the charter-school movement, and noted that 20 percent of New York City's 3 percent of charter schools are located in poor sections of The Bronx, Brooklyn and Manhattan. He looks to increasing the 3 percent to 6 percent and to institute procedures that will follow children at risk and support their high hopes of going to college. We need a "posse," Carol Reich chimed in, "alumni programs" to ensure that kids don't drop out, that they stay committed in later grades.
In a lively Q & A, the Reiches and Fliegel were asked about rewarding outstanding teachers and involving parents more. Their answers: parents, get involved, get organized, visit your children's schools, they're using our tax money. Become principal for a day, said Edith Everett of The Everett Foundation. We should all be advocates, they said, and they urged attendees to access DonorsChoose.org, a citizens' philanthropic initiative that invites individuals to fund specific project requests from teachers (materials, equipment, field trips, etc.), 100 percent of which goes directly to the classroom. #