Ann Tisch & YWLN Celebrate 6th Anniversary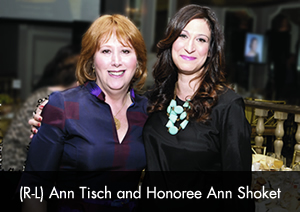 In 1996, Ann and Andrew Tisch partnered with the New York City Board of Education to open The Young Women's Leadership School (YWLS) of East Harlem — the first public all-girls school to open in the United States in 30 years. Their vision was to provide economically disadvantaged girls with a high-quality college preparatory education modeled upon the finest private schools. Based upon the success of its flagship school, the model has been replicated to include five network schools in New York City and nine affiliate schools.
The Young Women's Leadership Schools are a high-performing network of all-girls public secondary schools (6th-12th grades) that provide a single-sex, college preparatory choice to underserved families. The schools are open to girls of all academic abilities who aspire to a post-secondary education. The TYWLS "whole girl" model of education includes research-based best practices (collaborative learning, connections to the world, comprehensive college and career preparation), coupled with social-emotional support that enables girls to achieve their fullest potential.
In 2012-2013, the TYWLS network will serve approximately 1,900 students in five NYC schools.
YWLN facilitates in-school, after-school and summer programming at TYWLS to expand students' learning beyond the classroom. YWLN provides comprehensive supports to TYWLS students, their families, administrators and teachers. In addition, TYWLS has inspired the creation of more than 100 single-sex public schools nationwide, including nine affiliate schools in Illinois, Maryland, New York and Texas.
Young Women's Leadership Network supports two life-changing programs that empower low-income youth to break the cycle of poverty through education: The Young Women's Leadership Schools, a high performing network of all-girls public secondary schools, and CollegeBound Initiative, a comprehensive college guidance program for young women and men in high-need public schools.
Since 2001, the two programs have sent more than 4,500 students to college and have generated nearly $69 million in financial aid and scholarships to enable them to persist there.
The honorees this year were: Tina Brown, Editor-in-Chief of Newsweek/The Daily Beast; Susan Lyne, Chairman of Gilt Groupe; Ann Shoket, Editor-in-Chief of Seventeen and Kevin Roberts, Worldwide CEO of Saatchi & Saatchi. #