DISTINGUISHED LEADER IN EDUCATION 2012
Sr. Vice-Chancellor Jay Hershenson,
The City University of New York
By Joan Baum, Ph.D.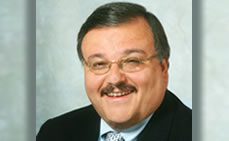 Coming up soon on 30 years as vice chancellor under six chancellors and over 100 trustees, Senior Vice Chancellor for University Relations and Secretary of the Board of Trustees Jay Hershenson, easily — and joyously — wears the nickname recently given to him by Board Chairman Benno Schmidt: "Mr. CUNY." It's not just that Hershenson is probably the longest-serving top administrator in CUNY's expanding environment (24 schools, a half million students and 270,000 in credit-bearing degree programs), but that he brings to the position a long and diverse history as a CUNY insider: a community and senior college student, a student political leader, an adjunct teacher, a publicist, a government liaison and an activist in promoting academic and community relations.
"Been there, done that" would describe his record were it not for the fact that he's still there … and doing still more. He is, arguably, one of the rare few at the university who can with sincere passion and passionate conviction say that CUNY student accomplishments, such as those recently winning so many major national awards, "make my heart sing!"
The first in his family to go to college, Hershenson started out as a student at Queensborough Community College, went on to Queens College where he earned an undergraduate degree in Communication Arts and Sciences and University Administration, and then an M.A. from Queens in Urban Studies. He has the distinction of being the first elected student trustee to the Board (1974). He's been an evening student, a day student, a part-time faculty member at Hunter and Queens colleges, and he's done doctoral work at Teachers College. He has deep regard for working students, recalling how a visit to a morning class at Borough of Manhattan Community College "brought tears to my eyes," hearing how many students had just come off a night shift.
Given the fact that over half of the university's students transfer from community colleges (true, nation wide) — many of them working students, immigrants, first-generation, students with disabilities — he gives these populations special consideration in the framing of "signature programs," he conceived such as Citizenship Now. In partnership with The New York Daily News and with the assistance of approximately 450 volunteers from law schools, law associations and local media, who speak over 50 languages, the program has, since its inception ten years ago, fielded over 100,000 calls. "The phones never stopped," he said. This is CUNY at its best, he remarks, "a large urban university performing public service as part of its mission," and is certainly part of its history, which was to welcome immigrants.
Well aware that graduates are concerned about jobs, jobs, jobs, the Sr. VC moderates the program at every annual Big Apple Jobs Fair at the Javits Center. This past April once again saw a "great turnout" of employers and agencies, and how serendipitous that CUNY had a room overlooking the Hudson River, and lo! The space shuttle went by, reminding people of the Challenger and Enterprise. "Challenge," in the form of "leveraging social media in a job search" was certainly one of three themes the Sr. VC took note of. Another "enterprising" workshop was how to convert an internship into a full-time job, an initiative from an organization called New York Needs You. The third was on international careers ("overseas jobs"). In his day "the person next to you in class was not likely to be from China or India." Now, with "the smartest and most diverse students" in the country, CUNY is eager to provide resources that will enable graduates to compete here and abroad. To that end, the Sr.VC's work at CUNY TV, notably the 30-minute multiple award-winning show on Latino culture, "Nueva York," stands out. But there is more, lots more.
Given Chancellor Matthew Goldstein's declaration that 2005-15 would be the CUNY Decade of Science (including continuing partnerships with public schools in STEM disciplines), Hershenson has signed on as Executive Producer of the CUNY-TV series, "Science & U!," which highlights the work of science educators around the country — "many of the best scientists work with universities." This year, he proudly states, 16 CUNY students won National Science Foundation Research Fellowships. No one else in the Northeast exceeded that," he said.
Although CUNY is not one of the two main partners of the high-tech graduate science campus to be built on Roosevelt Island, the university has ties to Cornell and Israel's Technion, and will be involved in various collaborative efforts (the president of City College is a Cornell graduate, and many science faculty nationwide are CUNY graduates).
It's not all science, of course. Hershenson speaks of the "renaissance" at CUNY in all disciplines — new professional schools in the humanities and social sciences, the Macaulay Honors College and New Community College (NCC), (Scott Evenbeck, president) across from Bryant Park, scheduled to open this September. "Our community college population is over 100,000; we're bursting at the seams," he said. NCC will be based on a full-time credit model called ASAP, which the Chancellor instituted five years ago to improve community college graduation rates. Where "this reform engine" has already been in place, the change has been dramatic, rising from 25 percent graduation in three years to 60 percent. Hershenson would go on … without notes … but even Mr. CUNY has to get back to business. #