DISTINGUISHED LEADER IN EDUCATION 2012
Dr. Charlotte Frank, Sr. VP, McGraw-Hill Education
By Joan Baum, Ph.D.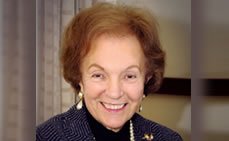 Dr. Charlotte Frank, former just-about-everything in education, who has been for the last several years Senior Vice President of McGraw-Hill Education of The McGraw-Hill Companies, shows absolutely no indication of slowing down in her efforts to address "critical issues of education and their importance for business," the theme of many of her articles and lectures. Honors continue to mount — just this past April she was given a "salute" by The Bank Street College of Education for a lifetime of achievement in education that included a celebration of her smooth, mid-life change of career, from being the head of curriculum instruction in New York City, where she introduced curriculum bulletins for all New York City teachers in all subject areas, which included Essential Learning Outcomes before the concept of national standards was in place. She embraced at McGraw-Hill new challenges of national and international significance. There she also coordinates the Harold W. McGraw Jr. Prize in Education and co-chairs with Peter (of Peter, Paul and Mary) Yarrow the innovative, much-admired and successful program, Operation Respect: Don't Laugh at Me.
Indeed, each month, awards come her way. In March she received the East Meadow, L.I. Tikkun Olam "Repairing the World" Award for her work in Combating Bullying and around the same time a Proclamation from the Nassau County Legislative Assembly of the State of New York. In June she will be a recipient of a Distinguished Leader in Education 2012 plaque, given by Education Update at The Harvard Club. And May? She'll in effect be working toward what will probably be another award in recognition of ideas she'll present at an international forum on politics and peace in Istanbul, Turkey. Her panel is entitled "A Better Education, A Better Future," and she's thinking of focusing on "the digital world," "student performance and closing the achievement gap," as well as on "the importance of real-life learning" — the concern of countries around the world. The conference will bring together professionals from the world of politics, finance and education, three areas Dr. Frank can readily lay claim to.
Dr. Charlotte Frank, a former Regent of the University of the State of New York, doesn't move on, she moves out, widening and deepening her involvements in education but keeping close to the center — curricular development. She is driven by the belief that we can accomplish whatever we want to; it depends on how much we care. Her trajectory was — and is — the more remarkable because she started out in a predominantly man's world at the time. She was the first woman in her physics class in high school and then decided to go into the school of engineering at City College. She decided to major in statistics and economics, getting a BBA. After working in various teaching and supervisory positions, she was appointed Executive Director of the Division of Curriculum and Instruction for The New York City Board of Education. Receiving the tribute at Bank Street, she recalled how, when she graduated from high school, her father was not too keen on her going to college. It was her mother who strongly encouraged her to go on, to achieve, to be independent. Her determination to keep learning continued to play out when she earned a Masters in education from Hunter College and a doctorate in Education Administration from the Steinhardt School at NYU in 2000.
She also established The Frank Aerospace Study Center in Arad, Israel, to advance science and technology education and continues to be active in the American-Israel Friendship League that sponsors high school exchange programs whereby students stay with host families in both countries. In addition, she leads a mission of U.S. school superintendants and other educators for a six-day visit to Israel. Her involvements focus not just on content areas but on "character building," an interest that began during the Koch administration when she was asked by the mayor, in response to concerns of the police, fire and sanitation departments, to develop materials she called "Citizenship in New York City." The common idea is to turn out educated students who feel themselves to be "citizens" — of their cities, of their country, of the world. Toward that end, she has been a generous supporter of various endeavors for high school students in all subject areas but with a particular emphasis on the STEM disciplines, identified as crucial to American and global economic well being: science, technology, engineering, mathematics. At CCNY she established The Dr. Charlotte K. Frank Center for Mathematics Education; and at Hunter, where she was inducted into the Hall of Fame, she has endowed The Charlotte Frank (smart) Classroom. The NYU Science Center also bears her name. Clearly, her future will be one of continuing service, success and awards. #