Teen Design Fair
By Yuridia Peña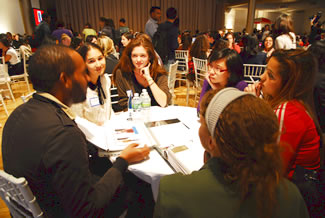 Hundreds of boisterous teenagers filled Manhattan's iconic Altman Building at the 6th Annual NYC Design Fair recently, to learn about breaking into design's makeshift industry.
Fashion expert Tim Gunn was frank about the competitive nature of the business. "If you are not passionate about being a designer don't do it. It's not just a job; you live with it, you don't leave it back in the office," he said.
"I created a hair jacket, [because] what I'm trying to do [is] make myself stand-out" said Georgina Jean-Dusseck, a sophomore at Fashion Industries High School. The confident young artist said the best advice she received was from Mr. Gunn who inspired her to learn about the history of fashion in order to design authentic and original pieces.
Mr. Gunn is known for his TV role as co-host of Lifetime's Project Runway. On the show, he repeatedly tells designers to "Make it work" in order to impress judges like Michael Kors.
The fair drew dozens of top designers from different fields to counsel high school students (and a few middle schoolers) about design careers in fashion, industrial, architecture, multimedia and graphic design. "I want to encourage young people to pursue their dream in design," said Phil Jimenez, an artist for Marvel and DC Comics. His advice is to be polite and persistent. "Never give-up and when they say no find out what will make them say yes," he added.
"Employers look for versatility," said Ryan Cox, a freelance artist. Designers brought examples of what good versatility and original concepts looks like. And it worked. Students took notes as they received pointers on how to market yourself and make your work memorable to potential clients. "You get a lot of chances to build relationships and network," said Taylor Johnson, a senior student at Art and Design High School.
Middle school student Robyn Salazar learned valuable tips too. She said, a designer suggested sketching lightly and swiftly before concentrating on the details.
Representatives from art schools also attended the fair to talk to kids about the admissions process and financial aid resources.
The Smithsonian Cooper-Hewitt, National Design Museum organized the free event which is part of National Design Week. Since 2006, National Design Week has been an education initiative that draws attention to the ways in which design enriches people's lives.
During a Q+A with the audience, a student asked Mr. Gunn what he looks for in an impressive portfolio. He said "spirited innovative ideas; technical skills are nothing unless you are willing to storm ideas."
He also candidly warned students about inheriting pervasive entitlement characteristics. "I want you all to know the world owes you nothing; you have to make things happen," he said. #