New College On Roosevelt Island Holds The Promise of New Jobs, Start-ups & Courses from K-PhD
By Joan Baum, Ph.D.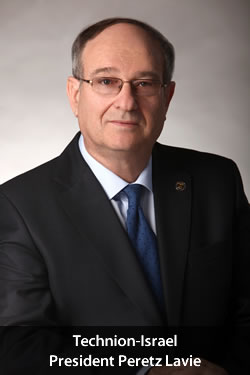 When this past December Mayor Michael Bloomberg held a news conference to announce the winners of a competition to inaugurate a graduate center for applied science on Roosevelt Island, the applause, he felt, could be heard in Ithaca and Haifa. The response was enthusiastic and prolonged, the occasion demonstrably joyous, especially for the presidents of The Technion-Israel Institute and Cornell University, Peretz Lavie and David Skorton, respectively, and for "visionary" staff in New York City (particularly Deputy Mayor Robert Steel and Economic Development Corporation head Seth Pinsky).
The ultimate beneficiary of the collaboration, the Mayor predicted, would be New York City, as the best students will be attracted to study here, new and permanent jobs will be created for graduates and lasting partnerships will be forged between business and technology in imaginative ways.
"A defining moment," a "watershed moment," a "game-changing time," the beaming Mayor declared of the alliance, acknowledging with a laugh a suggestion that he apply for a faculty position, once his mayoral tenure ends.
Called The Technion Cornell Institute of Innovation, TCII will serve as a "magnet for scientific talent and economic growth," Bloomberg said, bringing together academia and industry in entrepreneurial and interdisciplinary ways. The 11-acre main campus will open on the site of the old Goldwater Hospital, probably in 2017, but classes are slated to begin around town in any of several buildings owned by Cornell. As for faculty — Lavie said that immediately following the news conference, he was overwhelmed by e-mails, calls and CVs from top researchers in industry and higher education. He also expects to be inundated with requests from professionals to mentor city high school students as part of TCII's outreach program for grades K-12, going into the schools until the Roosevelt Island campus is ready.
His model, however, is ready: approximately 10,000 students pass through the Technion to use its labs, some as part of a daily intensive, others coming once a week — some of them drop-outs, many minorities who need special attention. Success? More than two thirds are accepted by the Technion. "No affirmative action" here, the president adds; everyone is admitted on merit.
It would appear that the announcement of TCII could not have come at a more serendipitous time for both institutions: 2012 marks the 150th anniversary of the founding of Cornell and the 100th for the Technion. That adds up to a lot of experience. Over a period of 30 years, Technion graduates, President Lavie points out, transformed Jaffa (about 40 miles from Haifa, Israel) "from an orange economy to a semi-conductor economy," thus changing Israeli life. How? By being a "demanding school" with a "pioneering mission" and an instilled "sense of entrepreneurship" that attract the country's top students, a sizable number of whom come from underprivileged backgrounds.
Arab Israelis, for example, make up 20 percent of Technion's student population and serve in key administrative posts, including the dean of undergraduate instruction. They are also part of the Technion's extraordinary job-placement record: 70 percent of Technion's graduates work in high-tech industries, including exports, and half of these hold managerial positions. Of 121 Israeli companies on NASDAQ, over half are headed by Technion graduates — a $5 billion tech economy in a country of only seven million), making Israel second only to Silicon Valley. And, Lavie notes, of the country's over 4,000 startups, most will be around 10 or 15 years from now. Indeed, within a 10-minute drive from the Technion, research and development centers of major American technology corporations continue to proliferate, with Apple about to join the list. Technion's curriculum promotes not just tough standards but a can-do attitude: students serve in the army, and requirements embrace humanities as well as scientific disciplines. In fact, this premier engineering and tech-oriented business management institution also boasts its own orchestra and choir.
Lavie hopes, with Cornell, to create a transformative research institution that will dramatically affect the city's economy. And he's not talking about a vague future. He means starting now. Already underway are curricular plans for TCII, beginning with the design of academic "hubs" that will function alongside traditionally structured faculties. The first three hubs, selected, coincidentally, by both Cornell and The Technion ("great minds think alike") are: Healthy Life, Connecting Media and Built Environment, three interdisciplinary areas that both institutions concluded "would matter most to modern urban society in the next 20 years." Built Environment, for example, will educate students in architecture, sociology, city planning, graphic design and civil engineering.
Preident Lavie is confidant that Technion success will play out in the city. Only graduate programs will be offered, however: dual-degree applied science and entrepreneurship masters and doctoral degrees — but these will be in traditional discipline form as well as in innovative interdisciplinary programs, the heart of the new collaboration. A director, appointed by a board of directors, will head up TCII and report to the presidents of both the Technion and Cornell.
As part of his administrative expertise, President Lavie brings to TCII significant data on the achievement of Technion's chip engineers that should prove valuable in New York. When asked on a 15-item survey to prioritize reasons leading to success, these Technion graduates cited as number one: "resilience." Next in line was "willing to cope with failure," then, "having role models" and fourth, "a desire to change the world." The president points out, "the desire to make money came in, in 10th place."
Lavie, a Sabra, who has been president of the Technion since 2009, graduated from the University of Florida with a doctorate in Physiology and Pscycholog. He went on to do post-doctoral work at the University of California at San Diego, moved constantly by "the need to change the world." An award-winner specialist on sleep disorders, he sees TCII as a dream come true. #