Charles Feeney: The Epitome of Philanthrophy
By Mohammad Ibrar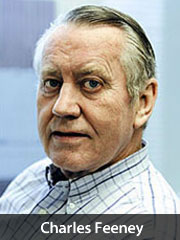 Cornell University and Technion Israel Institute of Technology have both been selected to build and run a new campus on Roosevelt Island. The newly proposed Technion-Cornell Institute of Innovation received a large donation from an anonymous billionaire, but he recently came forward. The secretive philanthropist, Charles Feeney, donated $350 million to help construct the world-class campus. But this is just one of many charitable efforts Feeney has endeavored.
Feeney, the founder of the world's largest private organization Atlantic Philanthropies, had remained in the shadows until 1997 and continued to donate large sums of money to universities, research associations and community programs. He founded the organization in 1982 and continues to play an active role. As of 2010, Atlantic has made donations and grants totaling over $5.5 billion. Atlantic is dedicated to "bringing about lasting changes in the lives of disadvantaged and vulnerable people," according to their Web site.
Feeney forged himself through the furnaces of the Great Depression. He was born and raised modestly in Elizabeth, N.J. From an early age, he had a knack for making a dollar. Feeney would shovel snow and mow lawns for his neighbors. He would later go on to join the Air Force, and used a military grant to fund his education at Cornell University. He became the first to attend college in his family. His entrepreneurialism sprang in Europe, where he began creating his own business and soon launched a chain of stores known as Duty Free Shoppes, where he and his partners sold high-end commodities to tourists and the public. At one point, his company was making a million dollars per day. Yet, he remained humble and began the life of a philanthropic billionaire.
He's known as an Irish American because of his initial dedicated philanthropy in Ireland, where he donated over $1.2 billion to educational organizations. Atlantic's first donations began with rebuilding of Ireland's university infrastructure. Feeney, the single biggest philanthropist in Ireland, gave large donations on the stipulation that he would remain anonymous. Ultimately, that changed and he was inducted into the Irish American Hall of Fame. His grants are geared towards programs in areas such as aging, children and youth, population health, reconciliation and human rights.
Feeney's donations stretch farther than just Ireland. According to Atlantic Philanthropies, the organization stretches across the globe to Australia, Bermuda, Northern Ireland, South Africa and Vietnam. Some of his many contributions include Cornell University, his alma mater where he donated more than $600 million over 25 years. In Vietnam, he continues to support and build the healthcare and public health system. In 2002, Atlantic made almost a $1.2 million contribution to Alliance for Safe Children, which is a major organization in Vietnam that helps reduce the amount of preventable child deaths.
In South Africa, he helped create a state-of-the-art research facility for the University of the Western Cape, which is considered one of the best in all of Africa. According to Atlantic, in Bermuda their objective "is to help build a vibrant social justice sector, with strong, effective organizations that have the ability and necessary support to influence social change." One of the many organizations Atlantic has assisted in Bermuda is The Centre on Philanthropy, which has received over $1.5 million in contributions. These are just a handful of benevolent deeds done through Feeney's organization; Atlantic's list of philanthropic ventures is too long to enumerate.
The generous billionaire behind all of this lives a Spartan lifestyle. According to the Atlantic, "Mr. Feeney owns neither a home nor a car. He still travels constantly – in economy class – and is well known for wearing a $15 watch."
Feeney is an incredible example of a well-off individual, whose philanthropic lifestyle goes hand in hand with his teachings. "I believe that people of substantial wealth potentially create problems for future generations unless they themselves accept responsibility to use their wealth during their lifetime to help worthwhile causes," Mr. Feeney wrote to the Atlantic Board of Directors. And by 2020, Feeney hopes to close Atlantic Philanthropies by giving away whatever is remaining. In his biography, "The Billionare Who Wasn't," he said, "I had one idea that never changed in my mind – that you should use your wealth to help people." #
David Beltran contributed to the reporting.